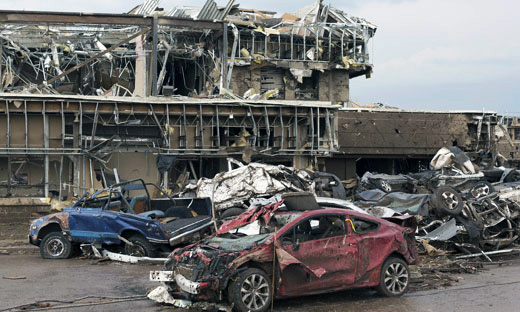 The people of Moore, Oklahoma, are still picking up the pieces after the May 20 monster tornado that tore its way through the town, just outside Oklahoma City. It left 24 dead – including at least nine children – and countless more missing. At one point, the tornado was 2 miles wide. In its wake, the town is a disaster area.
The tornado carved a 20-mile-long slash through Moore, leveling the Briarwood and Plaza Towers elementary schools. Moore Medical Center, though it survived, also sustained incredible damage. This has proven to be the deadliest tornado since the one that hit Joplin, Missouri, in 2011, and the worst Oklahoma tornado since the one that hit on May 3, 1999. It is also being called one of the worst tornadoes in world history.
President Obama talked about the tragedy today, remarking, "As a nation, our full focus right now is on the urgent work of rescue, and the hard work of recovery and rebuilding that lies ahead. But if there is hope to hold on to, it's the knowledge that the good people there are better prepared for this type of storm than most. And what they can be certain of is that Americans from every corner of the country will be right there with them, opening our homes and our hearts to those in need."
The Oklahoma AFL-CIO is working with the United Way of Central Oklahoma, which has activated its disaster relief fund. Donations can be made through their website, and also by traditional mail to United Way of Central Oklahoma, P.O. Box 837, Oklahoma City, OK, 73101, with attention to May Tornado Relief. The Oklahoma AFL-CIO is asking every local union to notify the federation if any union member was affected by the storm.
One of the surefire ways that Oklahoma will pull through is through federal aid, something that might put the state's U.S. senators Jim Inhofe and Tom Coburn – both Republicans – in an uncomfortable position. The two senators have repeatedly voted against funding federal disaster aid for other parts of the country, and both backed a plan to cut disaster relief for victims of Hurricane Sandy, with Coburn calling it "wasteful spending." They have also opposed increased funding for FEMA, which is on the ground now in Moore, along with the National Guard, organizing search and rescue efforts.
In a fit of hypocrisy, Coburn sang a different tune in regard to his own state. After a powerful ice storm in January 2007, he urged federal officials to speed up disaster relief aid for Oklahoma. He is expected to do the same in regard to the disaster in Moore, though his spokesman John Hart has tried to justify the hypocrisy by noting, "The senator will seek to ensure that funding for tornado disaster relief in Oklahoma will be offset by cuts to federal spending elsewhere in the budget."
For Inhofe's part, this Republican insisted that federal aid for Oklahoma will be "totally different" than the Hurricane Sandy aid. He claimed that the Sandy relief bill was "supposed to help New Jersey, but they were getting things in the Virgin Islands and Washington, D.C." What he failed to acknowledge was that, while New Jersey was among the states touched the hardest by Sandy, 24 states overall suffered from that storm, some of them rather severely.
Meanwhile, for those left to sift through the wreckage, perhaps the problems are only just beginning. The people of Moore cannot be expected to merely pick up where they left off; rebuilding and recovering will cost money that few of them are likely to have. And preparing for the next tornado is a daunting prospect for this largely working-class community. Not all of the homeowners can afford to have storm shelters built beneath their houses, and the lack of such shelters may have played a factor in the damage and death toll this time around.
It seems that old-fashioned storm bunkers are fading away as developers build more and more homes without them. In an area like Oklahoma, which lies right in Tornado Alley, that could be a death sentence to a homeowner, who would be left with nowhere to go but a hallway or bathroom in the event of a twister. Why, one might ask, do so many new houses lack these shelters, or even full basements? The profiteering of Big Real Estate could have something to do with it. According to the Chicago Sun-Times, "experts" in the business feel that buyers are less likely to purchase a house if they feel that a storm shelter or basement adds to the overall price of it.
"If anything, we're moving away from having a place to go to during a storm," said Steve Melman, director of economic services for the National Association of Home Builders.
Those who have shelter-less homes could have such bunkers installed, but at what would be considered an exorbitant price for a working- or middle-class resident. According to Home Advisor, FEMA suggests roughly 6 square feet of space per person for a tornado shelter. The average cost of that is reportedly $9,667, with the lowest someone is likely to find being $5,500. The maximum is $17,500. Then there are the prices of installation and delivery. For an average estimate on the cost of that, one can look at Louisiana-based company F-5 Storm Shelters & Safe Rooms, which charges a $2,195 installation fee for its smallest "safe room" and a $2.65-per-mile delivery charge. All in all, the process is neither easy nor cheap.
Recovering from this storm alone will be costly enough for residents. They're expected to have a very hard time putting their lives back together in the aftermath of what state highway patrol trooper Betsy Randolph called "mass devastation."
Randolph added, "The debris field is so high, and so far and so wide. There are wounded people walking the streets. I saw people that had stuff sticking out of their bodies from things that were flying around in the air. There are cars crumpled up like little toys and thrown on top of buildings. Everywhere you look, things are bloody."
Photo: The Moore Medical Center, severely damaged by the tornado. Alonzo Adams/AP