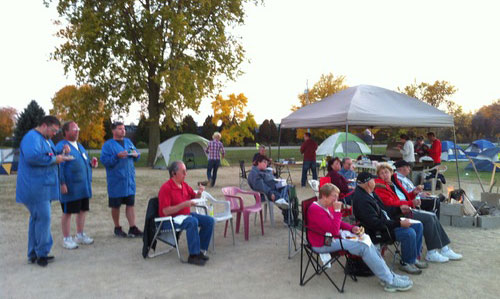 FREEPORT, Ill. – Workers whose jobs are being outsourced by Bain Capital closely watched the presidential debate last night from a campsite called Bainport, located near their former workplace here. When asked to comment on the debate, all of them blasted Republican candidate Mitt Romney for being a "master of lies" and trying to pull a "con job" on the American people.
"Romney continued his normal policy of unmitigated lying. There he was, the perfect example of a job destroyer, doing his normal thing, which is lying. This time lying to American people and telling them he was interested in creating the middle class jobs he is really destroying" in the name of private profit, said Tom Gaulrapp, a 33-year veteran at Bain-owned Sensata Technologies.
"He puts profits ahead of everyone else," Gaulrapp said, as a jeep traveling past Bainport pulled up right next to him. At a1985 shareholder meeting, Romney said Bain Capital's mission was to "harvest" significant profits from the companies it buys.
The driver, Paha Saw-Sawn, who is a member of Nakoda tribe in Montana, hopped out of the jeep and shook hands with Gaulrapp and said, "I just wanted you to know all of our people support what you guys are doing. Where can I go to make a contribution?"
As Gaulrapp walked him into a large tent with a sign that said "Romney owned stock in Sensata," Saw-Sawn said, "He's a g@$#%m liar. He's ruining your lives and will be a disaster for my people if he's ever elected."
Inside the tent, Del Wasso, who has lived in Freeport and worked at the since 2000, described what he saw in last night's debate. "Eloquently and with a straight face, Romney lied to the nation right through his teeth. He lies when he said he doesn't support top down trickle down economics," he said.
"We all know that Romney supports the Bush policies of slash and burn. The reason I moved to Freeport is that I was forced out of Joliet by those very policies, which devastated the Caterpillar plant, shut the mills and killed the town."
He also said Romney was playing up to the extreme right. "All that stuff of not funding public broadcasting is an example of his b.s. Public broadcasting is one of the only ways you can get a fair democratic debate going."
Then with a Twitter-like zinger, he added, "Romney said he likes Big Bird, but he's probably lying about that too."
Wasso says the country needs an "FDR-style jobs program" that can put millions back to work.
Workers at Bainport plan to rally Saturday, Oct. 7 at 9 a.m. with the Freeport community. NAACP leader Julian Bond is speaking. The public is urged to come out and show their support for the Sensata workers.
Teresa Albano contributed to this article.
Photo: People getting ready to watch Camp Bainport's fireside presidential debate, Oct. 3. (Bainport.com)