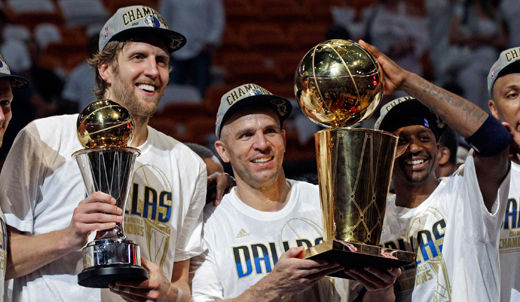 Lebron James' controversial statement after Miami Heat's crushing loss to the Dallas Mavericks Sunday in Game Six of the NBA Finals has critics calling him a "spoiled and arrogant athlete."
Speaking to reporters on live television after the game, James said:
"All the people that were rooting on me to fail, at the end of the day, they have to wake up tomorrow and have the same life that they had before they woke up today. They have the same personal problems they had today. I'm going to continue to live the way I want to live and continue to do the same things that I want to do with me and my family and be happy with that. They can get a few days of or a few months or whatever the case may be on being happy about not only myself, but the Miami Heat not accomplishing their goal. But they have to get back to the real world at some point."
Since the beginning of the season, James and his superstar teammates Dwayne Wade and Chris Bosh have endured repeated scrutiny and resentment outside Miami.
James is arguably the "most polarizing athlete in sports, playing for the most polarizing team," writes Dave Zirin in The Nation.
Zirin adds, "How can we deny the truth that many of us look to sports as a distraction from the trials and tribulations of our own lives? … We live in a crumbling nation with epic unemployment, 2 million people behind bars and vast wealth inequality … It's much easier – and emotionally manageable – to hate Lebron James than face our collective future … There's nothing wrong with sports being a sweet evening escape from problems that face us the next morning. There is something wrong with seeing athletes as avenues for our aggression when the real culprits exist outside the arena."
After seven seasons in Cleveland, James left the Cavaliers for South Beach turning down maximum dollars to stay or play in Chicago or New York.
But when it comes down to it, sports critics say basketball at the highest level is still a team game and Miami, even with the big three, didn't play like one when they needed to the most.
Dallas' Dirk Nowitzki, 33, originally from Germany, won the Finals (2011) MVP award, and led the Mav's to championship victory alongside veteran players Jason Kidd, age 38, Jason Terry, 33, Carson Butler, 31 and Shawn Marion, 33.
After 13 consecutive seasons with Dallas, Nowitzki averaged 27.7 points per game in the 2011, 21-game postseason, 8.2 rebounds per game, 2.5 assists, and shot an impressive 48.5 percent from the floor and 46 percent from downtown.
Mavericks coach Rick Carlisle called his team's victory "a colossal statement."
Speaking to reporters after the game he said their win was, "Not just about our team, but the game in general. Playing it a certain way. Trusting the pass. Playing collectively. Believing in each other."
Carlisle noted, "[The Heat's] talent is undeniable. At some point, it's going to carry the day. There's no doubt about that. But their time is not now. Our time is now. Our team is not about individual ability. It's about collective will, collective grit, collective guts. I'm so proud of what our team stood for."
He added, "We knew it was very important that we won this series for those reasons – because of what the game is all about and what the game should stand for. And I'm so, so proud to be a small part of that."
For what it's worth the Heat came close, winning 58 games in the regular season. They beat the 76ers, Celtics and the Bulls in five games each in the playoffs. But their superpower starters were not enough to overcome Dallas.
Meanwhile as the offseason begins NBA owners and players are nowhere close on a new collective bargaining agreement to replace the current one, which expires on June 30. Without a new deal, players say they have been told by the owners they will be locked out.
Photo: Dallas Mavericks' Dirk Nowitzki (from left), Jason Kidd and Jason Terry hold up their trophies after Game 6 of the NBA Finals basketball game against the Miami Heat Sunday, June 12, in Miami. David J. Phillip/AP.