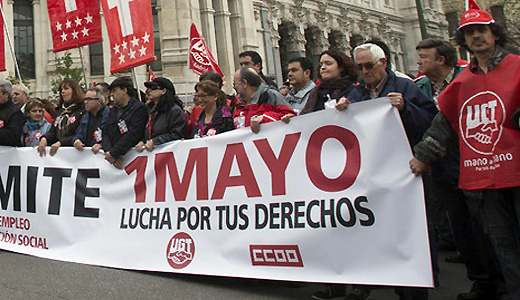 NEW YORK – May Day demonstrations here and across the nation today, sponsored by the labor and immigrant rights movements and many of their allies, are part of global demonstrations involving tens of millions on every continent.
May Day, which began at the historic Haymarket Square site in 19th century Chicago with workers demanding an eight-hour day, is now the most-celebrated holiday on the planet.
May 1 dawned first in Asia this morning with hundreds of thousands of protesting workers literally shutting down the Indonesian capital of Jakarta. They condemned the government for hiking fuel prices and eroding recent meager increases in the minimum wage.
In Manilla, the capital of the Philippines, meanwhile, thousands of exploited contract workers marched through the streets demanding the right to unionize.
In Istanbul, Turkey, police locked down the center of the city to keep out thousands of May Day protesters. The history of police violence against workers did nothing to deter the demonstrators, still mindful of the 1977 protests when police shot dozens of Istanbul workers to death during May Day demonstrations. "There are scuffles everywhere in the streets leading up to central Istanbul," said Hashim Jahelbarra, in his post on the Al Jazeera website.
The Iraqi Communist Party marched in huge May Day protests in Baghdad.
Meanwhile millions in Europe began to join the global actions.
More than 1.5 million turned out at 16 demonstrations and rallies in Moscow.
In Greece, the country ground to a halt as almost everyone joined in a 24-hour general strike against austerity. Trains and ferries were stalled at their moorings as seamen walked off the job.
"Our message today is very clear. Enough with these policies which hurt people and make the poor poorer," said Ilios Iliopoulos, general secretary of Greece's public sector unions.
In Spain, where official unemployment stands at 27 percent of the workforce, unions called at least 80 major demonstrations with millions turning out. "Never has there been a May 1 with more reason than this one to take to the streets," declared Candido Mendez, head of the nation's trade union federation.
In the U.S., the AFL-CIO, which is leading demonstrations in many cities, is calling on people to turn out and show their support for massive job creation programs and comprehensive immigration reform.
Notices sent to union members by the Chicago Federation of Labor urged workers to "Reclaim May Day, the real Labor Day."
The unions say good turnouts today will show that the people reject austerity as the solution to the economic crisis and instead demand job creation and strengthening, not weakening, of earned benefits programs like Social Security, Medicare and Medicaid.
Around the United States, May Day actions will place a special emphasis on immigrant rights and the need for a commonsense immigration process. Union members are joining community partners and allies in more than 50 actions. There is still time to find a May Day event near you.
Photo: Workers gathering at city hall in Madrid, Spain May 1, 2013, where thousands marched against austerity. Paul White/AP