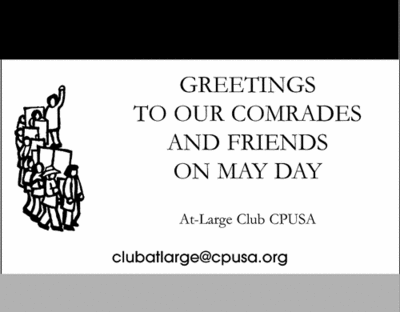 Many of us never learned in school that May Day, the most widely celebrated holiday in the world, was born here in the USA.
On May 1, 1886 Americans across this great land left their jobs to go on strike for the eight-hour day. At the center of this upsurge were the workers of Chicago who fought and died for that eight-hour day. The leaders and some who were not leaders were rounded up and put to death. It was too late for the bosses, however, because news of the heroism of the Chicago workers spread like wildfire around the world and May Day, all over this planet, became the day for the working class to both stand up to those who exploit it and to celebrate what has become a parade of working class victories.
Since its birth there have been many attempts to make us forget the meaning of May Day. They've tried everything and anything, from turning it into a day for picnics on the nearest Sunday, to turning it into a "holy day," (Feast of St. Joseph the Worker), to substituting a September Labor Day instead, to eliminating it altogether.
All of these attempts and, most important, the attempts to crush the movements celebrated by May Day, have failed.
This year, once again as always, millions march on May Day in Vietnam, in Iraq, in Hong Kong, in Germany, in South Africa and in Brazil.
And this year the meaning of May Day rings louder and clearer than ever right here in America, the place of its birth.
Hundreds of thousands will take to the streets of American cities. Many of them, like the Chicago martyrs who were the first to lay down their lives, will be immigrant workers demanding equal rights. They will march side by side with native born workers, all of them backed in their cause by a national labor movement now united behind a program for immigrant rights. That program strengthens the rights of all workers, native born and immigrant. Those who march will demand the right to form and join unions. Those who march in America's cities will celebrate labor's role in electing our first African American president.
Together with their brothers and sisters all over the world, perhaps more than ever, Americans, this year, proudly celebrate May Day – the special holiday born in the USA.