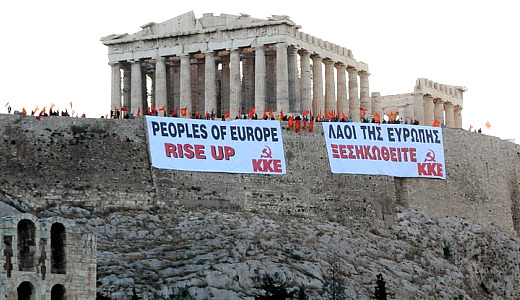 With a symbolic action on May 4, members of the Communist Party of Greece (KKE) sent a dramatic message to the peoples of Europe.
Early that morning, members of the KKE staged a symbolic occupation of the Acropolis, the world symbol of Athenian civilization that sits atop a massive rock dominating the skyline of modern Athens. They hung red flags and two enormous banners bearing the slogan "Peoples of Europe rise up" written in Greek and in English. It was an appeal to workers across the continent to stand up against anti-labor measures taken by the governments of Greece and other countries under the pretext of solving the capitalist economic crisis now plaguing Greece and all of Europe.
The KKE said it was a message of "resistance and counterattack," urging workers to develop "the class struggle" against big capital. The action came just after mass May Day demonstrations organized by the Communist-led All Workers' Militant Front (PAME) in 75 cities throughout Greece, and just before a 24-hour nationwide strike on May 5 against "the anti-peoples and anti-workers measures promoted by the social-democrat government of PASOK (the Greek Socialist Party), the European Union and the International Monetary Fund." Also on May 4, civil servants in Greece went on strike.
Photo: Communist Party of Greece