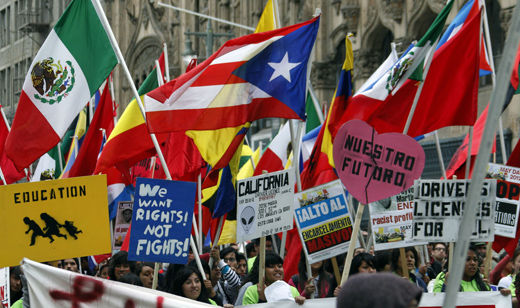 LOS ANGELES – Solidarity marches were held throughout the Los Angeles area in support of worker rights, immigration reform, lives matter, police transparency, economic rights, and civil rights. Thousands gathered in the Los Angeles Chinatown area just south of Los Angeles City Hall to listen to speakers give testimony on issues such as the Fight for $15, Justice for Drivers (Port drivers strike), Black and Brown Lives Matter, immigration reform, and keeping families together. The march ended with a rally in front of Los Angeles City Hall.
The Rev. James Lawson, a long time civil rights activist spoke about the need for the community to act together because "we can't count on the business sector or the politicians to move our agenda. Our success has come about because labor, community, and families have pushed for social justice."
A clear message was presented in speeches, signs, and chants that black and brown working together is the only way to ensure any movement toward social justice. Many speakers stressed the need to learn from each other, to organize with each other along with labor and community as allies. Only with this type of solidarity will we see a type of society want. The main emphases for the solidarity march were the fight for minimum wage, immigration reform and black-brown unity.
One student participating in the march carried a sign that read 'End the war on immigrants. We are worth more;' another sign read, 'Justice for Drivers – we bring you the world;' and many carried signs reading, 'Lives matter.'
On the opposite side of downtown LA, another march was held, where hundreds of marchers gathered to head down Broadway, a major street in the downtown Business district and just north of Los Angeles City Hall. The marchers held a rally on Broadway and 2nd Street next to the LA Times building to protest the current immigration policies. The main march was gathering not far away on the steps of City Hall.
A smaller march was held in East Los Angeles, where community people marched down First Street to Mariachi Plaza in support of immigration rights. Other actions took place throughout the greater Los Angeles area.
Photo: An assortment of flags at a May Day march in LA, demonstrating the level of solidarity present. | Reed Saxon/AP