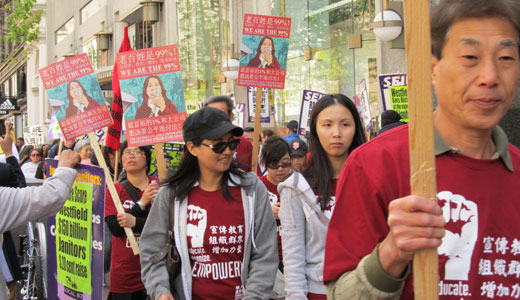 SAN FRANCISCO – Bay Area unions and immigrant rights organizations marked May Day with picket lines, rallies and marches in cities around the region. Unity was the theme, and health care was a prime issue, as janitors, nurses, bus drivers, ferry workers, city workers and immigration reform groups campaigned in an overall framework of rights for the 99 percent.
In San Francisco, hundreds of janitors and their supporters picketed in front of the Westfield Mall in the heart of downtown, supporting SEIU Local 87 members waging contract battles with Macy's and Bloomingdales. The union says some 3,500 janitors are involved in contract talks now underway in the city.
"It's totally unfair that janitors who keep stores and malls in super-duper shape don't have decent wages and benefits," Local 87 President Olga Miranda said before the rally. "Companies are trying to have janitors pay lots of money for family health care. Many janitors only work part time; some could end up working just to pay for their family health care."
A rank-and-file leader from SEIU Local 1021, which represents public sector workers, told the crowd, "We are in a fight against the 1 percent, whether we are public sector or private sector workers." She pointed to increased part-time work, health care and other takeaways. "Enough is enough," she said. "Our community will not be divided!"
Local 1021 workers started their May Day early, with a sit-in at City Hall the evening of April 30.
Registered nurses at Sutter Health, members of the California Nurses Association/National Nurses United, held a one-day strike at 10 facilities in different area cities. The union said some 4,500 nurses and other professionals were affected by the walkout.
"If you work for McDonalds, you at least get a burger for less," Nurse Mary Boyle told the crowd. "So if you work for a big corporation that makes how many billions of dollars and you're not going to get health care for you and your family?"
The nurses' union says Sutter has made over $4 billion in profits since 2007, and pays its CEO $4.7 million a year, but is demanding big cuts from its RNs, including forcing them to work while sick and to pay thousands in increased costs for health care.
Joining the rally was Alameda Labor Council head Josie Camacho, who pledged the backing of the council which represents 100,000 union workers. "We know [Sutter] is making tremendous profits off the backs of not just the nurses, but the patients," she said. "We pledge to stand with the nurses as you continue your fight."
Among other May Day labor protests was an early morning strike by members of the Inland Boatmen's Union, forcing ferry commuters from the North Bay to find other ways into San Francisco.
"We have been negotiating in good faith for one year now," said IBU member Rene Alvarado. "The district says they appreciate workers, but they have shown no appreciation at the bargaining table. We deserve a fair contract and health care for our families and retirees."
In Hayward, AC Transit para-transit drivers, who help disabled customers with their transportation needs, held a noontime rally for health care, vacations, sick leave, job security and better working conditions.
Wrapping up the day in Oakland was a huge march of thousands of immigrant rights campaigners and labor unions, who gathered in a heavily Latino part of the city and marched five miles to Oakland City Hall.
Led by Aztec dancers and joined by a marching band and a drum corps, a diverse crowd including immigrants from Africa, Asia and the Middle East as well as from Mexico and Latin America, demanded a fair immigration policy.
The great majority of the actions by labor and other groups were completely peaceful. But clashes and arrests involving so-called Black Bloc protesters took place in San Francisco and in Oakland.
Photo: Marilyn Bechtel/PW