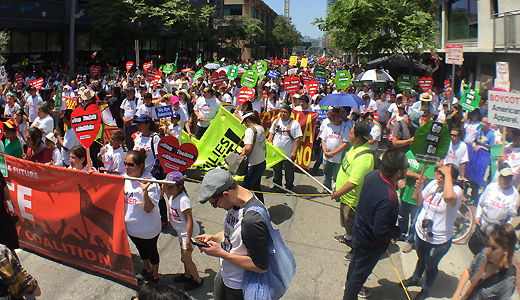 LOS ANGELES – Two large Los Angeles May Day marches converged upon downtown Los Angeles. The flow of marchers and supporters continued for miles. This mighty convergence was shaped by several thousand people from all areas of Los Angeles, who understand that May Day is a day for workers.
The tradition of May Day is well entrenched in Los Angeles. Over the years the May Day marches keep getting larger and larger with the Los Angeles County Federation of Labor playing a major role. In addition, immigrants' rights organizations are helping to mobilize and organize the immigrant community. Together, these forces help shape organizing, recruitment and social justice activity in Los Angeles. The large May Day demonstration is just one example of this ongoing coalition.
One of Sunday's marches focused on immigrant rights, equal rights and immigration reform. The other march focused on worker rights, workers equal pay, and economic reform. Both marches respected and echoed the historical importance of May Day. "Workers Unite!" was the message as several thousand, labor, community, clergy, students, seniors, and people of color emerged from the surrounding streets to join the marchers to demonstrate on this May Day.
Marchers and supporters on this May Day enjoyed the festive atmosphere. Mothers hugged their children, small brothers and sisters playfully pushed each other in a game of tag. Teenagers danced to music on their iPods. Yet at the same time, among those celebrating this workers' holiday was Williams, a homeless man who didn't want to use his full name. He stood on the sidewalk holding a paper cup asking politely for some money so he could buy a meal. Reflecting on the day's festivities, he said, "There's still much to fight for, there is still much more struggle to achieve a just society."
Photo: Rossana Cambron | PW