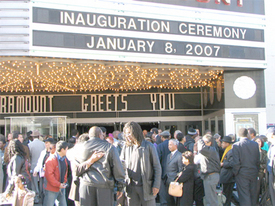 OAKLAND, Calif. — An exuberant, standing-room-only crowd of well-wishers mirroring the city's diverse population packed the 3,000-seat Paramount Theater Jan. 8 to celebrate the inauguration of former Congressman Ronald V. Dellums as mayor.
The landmark art deco theater rocked with applause as Rep. Barbara Lee, who succeeded Dellums in the district which includes Oakland, rose to introduce the new mayor. Lee called Dellums, who was born in the city's public hospital and graduated from its public schools, "our native son." Referring to her earlier role as a Dellums aide, she added, "How often does a former intern and staffer have the chance to congratulate her former boss as the mayor of the greatest city on earth?"
Recounting Dellums' role for peace, a rational foreign and military policy, and real solutions to urban problems during his 28 years in Congress, Lee declared, "Ron's life has really come full circle. Oakland has elected a world-class leader as its mayor. Together, we can do great things!"
Recalling campaign themes, Dellums urged the community to "come together to create a model community" with "a vibrant economy" and people who are "healthy, well-educated, well-informed," and where "people listen to each other, work with each other." He called for a city delighting in its diversity, where human life and dignity are respected.
"While we continue to raise our voices in the name of peace abroad," he said, "let us unite to bring peace to the streets of Oakland.
"Peace is about justice," Dellums added, "and we have a responsibility to bring justice to the streets of Oakland. That's how we will achieve peace."
Pointing out that the United States is "the last remaining industrial nation that doesn't have universal health care," Dellums called for dealing with "the social determinants that impact upon a healthy life, because where you live and how you live in many ways determine the health and vitality of citizens."
Public education and democracy go hand in hand, the new mayor said, warning that when private education threatens to overwhelm public education, "you are dropping a bomb on democracy." To the school board, striving to regain local control of the city's schools more than three years after a state administrator was imposed, Dellums said, "Let us work together as never before."
Also inaugurated were the new city auditor and new members of the school board and city council. David Kakishiba, elected to his second term as board president, told the crowd of the substantial fiscal and educational progress the district has made. He called on the community to unite behind an agenda for restoring local control of the schools and improving conditions for students and teachers.
Waiting outside the theater to greet the new mayor and elected officials after the ceremony were Marlene Henderson and her 7-year-old son, Alonzo. Dellums has shown himself to be an "excellent leader — he will make a positive difference for the entire city, helping us to become a more cohesive community," said Henderson.
"He's back home now — he knows Oakland," said Roslynn De Cuir. As a small business owner, she said, "I'm specially concerned about what Dellums will do for small businesspeople, minorities and women." Businesses from outside the community "only care about making a profit," she added. "What do they care about this city and making it better?"
The Jan. 8 ceremony opened a week of celebrations, receptions and cultural happenings throughout the community, ranging from black-tie events to community celebrations in different parts of the city and including a hands-around-the-lake gathering at Lake Merritt on Jan. 13.
mbechtel @ pww.org