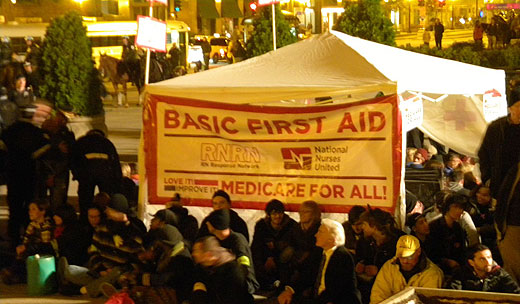 CHICAGO – Protesting the mass arrests and the destruction of their first aid station this weekend, ordered by Mayor Emmanuel, nurses and their allies picketed City Hall this morning.
National Nurses United had a first aid station at Occupy Chicago when police, acting under orders from the mayor, swept in, tore down the medical facility, and arrested 130. The early Sunday morning sweep against those taking a stand against Wall Street involved making life more difficult for those arrested this week than for those arrested last week.
Retired steelworker Scott Marshall, 62, who was among those arrested Sunday, said that a policeman told arrestees on the way to jail that the mayor would be increasing the pressure on protesters from here on out.
Marshall himself, and many others were held for 20 hours before being released. They were put in holding cells, then booked and then put in two-person cells where they spent many hours before being released to the cheers of supporters outside, "It was cold and there were no blankets. Just a hard metal seat, and an exposed crude toilet," he said.
The first aid station in Chicago that the mayor ordered removed was the one most recently opened by the nurses, who operate similar facilities in New York's Zucotti Park, as well as in Los Angeles, Washington, D.C., Oakland and Detroit.
More than 1,500 gathered peacefully Saturday in Grant Park, trying for the second week in a row, to make the park the site of Occupy Chicago's permanent encampment here.
As protester's marched through the streets from the financial district to the park, they chanted "Banks got bailed out, we got sold out!" and held signs that read "Greed Sucks."
Police on horseback prevented protesters from walking on the street on Michigan Ave., keeping them to the sidewalks, where they remained peaceful.
The peaceful nature of the protests did not deter Mayor Emmanuel from ordering the arrests. Demonstrators were removed one by one and handcuffed with plastic ties.
"What does democracy look like? This is what democracy looks like," many of those arrested and hundreds of their supporters chanted, as police took them away.
AP reported that Paulina Jasczuk, a 24 year old dental receptionist, watched as her boyfriend, Philip Devon, was led away in the night hours. She threw him a white sweater against the chill of the fall night in Chicago.
"I'm proud of everyone who got arrested tonight," she said, adding she hoped they would inspire more demonstrators to joint in the movement in the weeks ahead.
"Taking arrest is a way in which demonstrators prove this is serious movement," said Marshall, the retired steelworker who is also chair of the Labor Commission of the CPUSA. ""I could see, during the time I spent in the holding cell, how serious people were. You had Occupy Chicago protesters and members of several unions together, discussing strategy and tactics. The talks were great and actually made the whole thing a better experience."
Photo: The first aid station, just before Chicago police, under orders from Mayor Emmanuel, tore it down. Justin Fallon