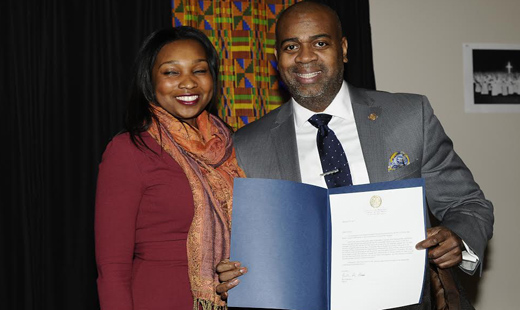 It was a cold evening in Harlem. A freezing wind blasted across the wide plaza in front of the Adam Clayton Powell State Office building as the crowd of New Yorkers lined up at the security desk in order to make their way up to the third floor to Melba's Restaurant and the annual "We're Not Going Back" celebration of African American culture and struggle.
Last year's guest speaker was Angela Davis, and the occasion was held downtown at the Henry Winston Unity Hall. This year's featured speaker was the newly elected mayor of Newark, the Honorable Ras J. Baraka.
The meeting's theme was "Support City Officials Who Fight for Equality, a Living Wage and Against Racism."
Estevan Bassett-Nembhard, New York organizer of the Communist Party, opened the program, greeting the over 200 participants and emphasizing the need for unity in the vital struggle to end racism. "We stand on the shoulders of those who defeated slavery and Jim Crow. Our history tells us that united we stand and divided we fall." He continued, "We're not going back! Our pledge is to stick together."
DJ Polarity set the mood with a mix of smooth R&B sounds.
Naquasia LeGrand chaired the event, winning a round of applause when she announced that she was a fast food worker and an organizer of that movement. LeGrand spoke of living as a single mom in New York on fast-food worker wages. "It's impossible," she said. "That is why we are fighting for a higher minimum wage and for a union."
One of the highlights of the evening was the speech by retired construction worker Ricky Eisenberg who told his own story of how he was involved in the struggle against racism and corruption in a New York building trades local.
He described how the anti-racist unity built in that struggle led to the victory of an interracial slate of younger workers despite being threatened with guns at the union hall's front door by the opposition.
Making the point that the fight against racism benefited all workers, he added, "White workers are going nowhere fast unless they are part of a united fightback."
Mayor Baraka electrified the crowd with a stirring speech that highlighted both the transformative impact of the fight against racism and where the struggle for greater democracy is heading.
"We [African Americans] are American history," he argued. "There is no history in America without us."
Baraka spoke eloquently about the strategic importance of the fight for democracy and challenged those who think democratic reform is a diversion from the struggle. "We cannot fight against democratic reform; we have to constantly push it past its limits," he explained.
The mayor told the story of how his father, writer, poet and activist Amiri Baraka, was beaten by the police in 1967 during the uprising in Newark. His mother Amina Baraka had to run all over Newark looking for his dad, who lay bloody and handcuffed to a wheelchair in a local hospital.
"I have to be an optimist," he declared, "because, on July 1, 2014, just 6 months after my father died, his son was inaugurated as the 40th mayor of New Jersey's largest city. "So, I have to be an optimist."
"No lie will live forever," he declared. "We are human beings. When we stand on truth, freedom, justice and equality, we can't lose."
He ended, "I was elected mayor of Newark because the people of Newark believed in Newark and they believed in Newark because they believed in themselves."
After hearing the mayor's speech, Joe Sims, CPUSA social media and party coordinator said, "That was one of the best speeches I have ever heard on political tactics and strategy."
A large and politically diverse host committee was formed to welcome Mayor Baraka, including representatives from labor, fast-food workers, police reform, immigrant rights, LGBTQ, religious and peace and justice movements. Among them were Alisha Garner, the sister of Eric Garner murdered by police on Staten Island, and elected officials including State Senator Bill Perkins, State Assemblyman Keith Wright, along with a representative of City Council member Ydanis Rodriguez. Baraka received proclamations from Perkins, Wright and Rodriguez. He also received a letter of welcome from Mayor Bill De Blasio.
Manhattan Borough President Gale Brewer stopped by briefly to greet the gathering crowd.
As the evening ended one participant said, "This was a great event that showed that left and center forces in our city can work together to build principled unity and a stronger movement to help defeat racism and poverty."
Photo: PW