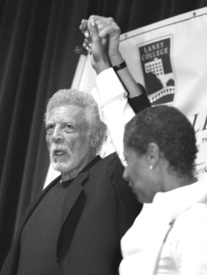 OAKLAND, Calif. — "Unity in the Community" was the theme as neighbors gathered May 20 at West Oakland's DeFremery Park to greet former Congressman Ron Dellums in the area where he grew up, and to express their support for his campaign to become the city's next mayor.
Other area candidates, union and community organization leaders joined in addressing the gathering, which was initiated by Local 10 of the International Longshore and Warehouse Union (ILWU).
Dellums, who campaigns on a program of bringing the community together to achieve a "21st century model city" with good jobs, health care, education, affordable housing and a healthful environment, drew warm applause as he told the crowd, "As a community, we can do super things." Among Dellums' endorsers are the Alameda County Central Labor Council, the Alameda County Democratic Party and several area Democratic Party clubs.
"The mayor of this city has a responsibility to galvanize the community across all the lines that divide us, into a powerful human coalition where people feel their own humanity, respect their own dignity and the dignity of others, and feel the power of their citizenship," he said.
The program was emceed by Clarence Thomas, chair of the ILWU East Bay Joint Legislative Committee, who recounted the many ways Dellums supported labor and the community while he was in Washington, including raising the pressure in Congress against South Africa's apartheid regime while Local 10 was initiating the union's boycott of South African ships.
In the crowd were Coalition of Black Trade Unionists leader Damita Davis-Howard and other CBTU members. After hearing Dellums, Davis-Howard said she felt his vision "is about leading Oakland into the 21st century." Dellums "is a grassroots person" who shares the concerns of people who live in ordinary apartments and houses and travel the city's streets every day, she said.
Also present was West Oakland environmental activist Margaret Gordon, who said she views Dellums as "more open, transparent and accountable to all the people." She added, "He wants to serve everyone, not just those with money and the developers."
Also speaking was Assembly candidate Sandré Swanson, a longtime aide to Dellums and Congresswoman Barbara Lee, as well as City Councilwoman Desley Brooks, City Council candidate Aimee Allison and other labor and community leaders.