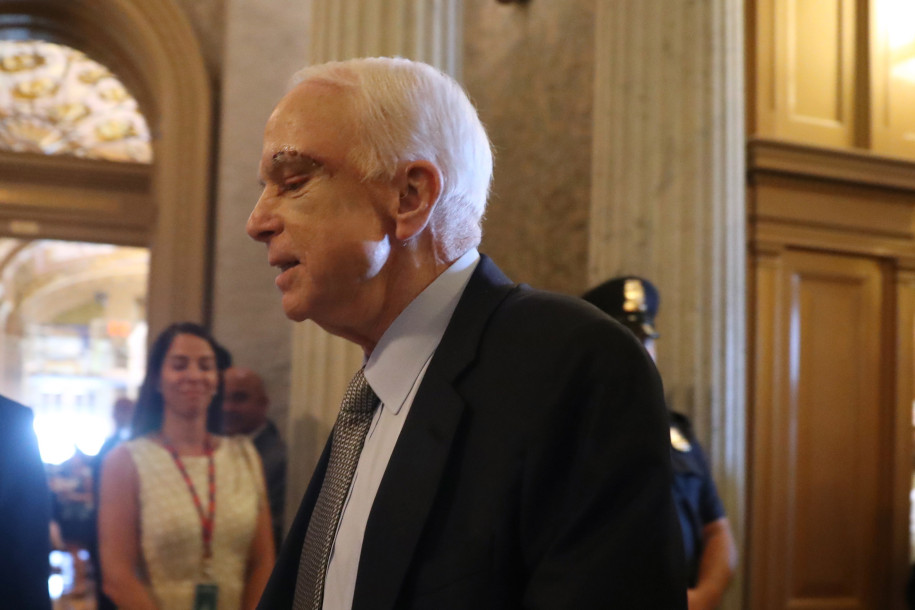 Tuesday afternoon, Sen. John McCain, R-Az., with wounds still fresh from brain surgery, flew in to D.C. to cast his vote to re-open debate on repealing the Affordable Care Act. His vote could be the one that causes thousands of cancer sufferers like himself to lose access to the kind of health care that is his by privilege of being a U.S. Senator.
In the wake of the Senate's 51-50 vote on July 25 to start debate on Republican-backed legislation to repeal the Affordable Care Act and cause many deaths for people left without health care, a large coalition of national groups, including MoveOn.org, Planned Parenthood, the AFL-CIO, Our Revolution and the Women's March, stepped up organizing for large nationwide protests four days later.
And prominent Democrats, led by former President Barack Obama – who pushed the 7-year-old ACA through a then-Democratic Congress — spoke out strongly against the GOP scheme, too.
The uproar accelerated after the Senate tied 50-50 on "motion to proceed" to debate Majority Leader Mitch McConnell's health care "repeal and replace" bill. All 46 Democrats, both independents and Sens. Susan Collins, R-Me., and Lisa Murkowski, R-Ak., voted against McConnell's move, while the other 50 Republicans voted for it.
Republican Vice President Mike Pence broke the tie in favor of the GOP leader's measure. That opened the way for debate on the bill itself, with right wing Republicans expected to demand a flat-out repeal of the ACA, without replacing it.
In so many words, health care advocates said, a vote for the motion to proceed was a vote to throw people off of health care, while a vote against it was a vote to keep them on it. "Our lives are on the line if the Republicans pass TrumpCare," the coalition said.
Repeal would throw 32 million people off the health care rolls by 2025, while even a replacement would still eject 22 million, the non-partisan Congressional Budget Office says.
That prospect will send the organizations and their members, united under OurLivesOnTheLine.org, into the streets from Honolulu, Ha., to Portland, Me., on July 29. Other protests are planned that day for Chicago, Los Angeles, Sacramento, New York, Cleveland, Miami, Fort Lauderdale, Las Vegas and dozens of other cities.
In a long statement, Obama wants senators to reverse course and keep the ACA, despite the GOP's constant votes since 2010 to kill it.
"I recognize that repealing and replacing the Affordable Care Act has become a core tenet of the Republican Party. Still, I hope that our senators, many of whom I know well, step back and measure what's really at stake, and consider that the rationale for action, on health care or any other issue, must be something more than simply undoing something that Democrats did," Obama said.
"We didn't fight for the Affordable Care Act for more than a year in the public square for any personal or political gain – we fought for it because we knew it would save lives, prevent financial misery, and ultimately set this country we love on a better, healthier course.
"For the first time, more than 90 percent of Americans know the security of health insurance. Health care costs, while still rising, have been rising at the slowest pace in 50 years. Women can't be charged more for their insurance, young adults can stay on their parents' plan until they turn 26, contraceptive care and preventive care are now free. Paying more, or being denied insurance altogether due to a preexisting condition – we made that a thing of the past.
We did these things together," he declared.
McConnell's measure, Obama stated, "would do the opposite."
"It would raise costs, reduce coverage, roll back protections, and ruin Medicaid as we know it. That's not my opinion, but rather the conclusion of all objective analyses" including reports from the CBO, doctors, nurses and hospitals.
"The Senate bill, unveiled today, is not a health care bill. It's a massive transfer of wealth from middle-class and poor families to the richest people in America," Obama noted, as the measure cuts Medicaid drastically while giving a huge tax cut to the rich.
"This debate has always been about something bigger than politics. It's about the character of our country – who we are, and who we aspire to be. And that's always worth fighting for," Obama concluded.
Though senators started debate on repealing and replacing the ACA, several of them are dubious about what McConnell wants to replace it with. Even Lindsay Graham, R-S.C., who voted to open debate, said "I don't know if they've got 50 but I know that I'm not going to vote for something that's a scaled down version, that's a political punt."
Graham wants regular hearings and votes, through congressional committees and debate, on replacing the ACA – just as occurred during its passage in 2009-2010.