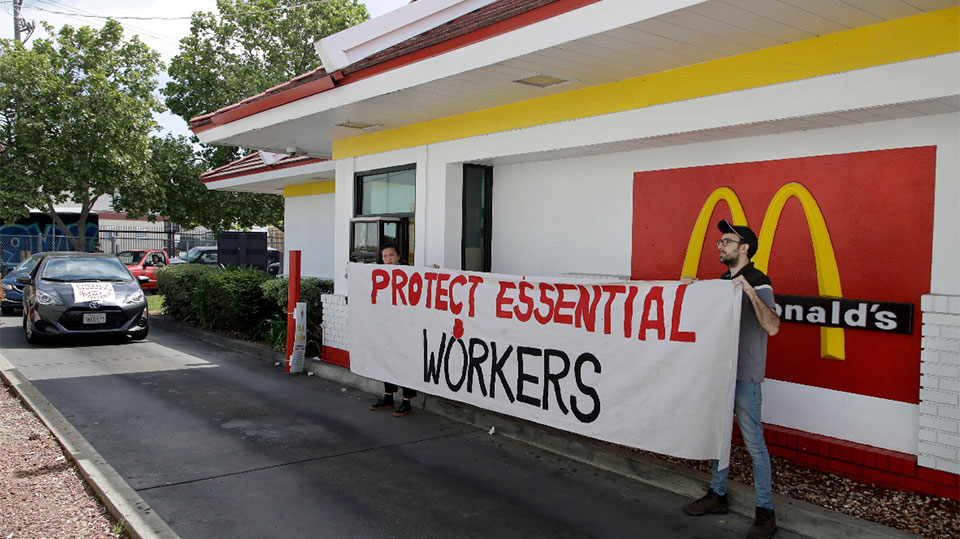 OAK BROOK, Ill.—Lack of protection against the ravages of the coronavirus, including no masks, no paid sick leave, and no hazardous duty pay, led thousands of McDonald's workers from coast to coast undertake a "virtual strike" of their giant fast-food employer on May 20.
And pickets—spaced six feet apart to prevent spread of the virus—actually appeared at the firm's headquarters in Oak Brook, Ill., to take their cause to the firm's front door the day before its annual shareholders meeting.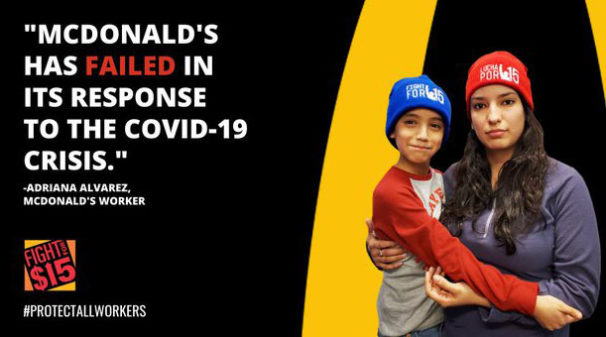 Fight For $15 And A Union, which again organized the protests, reported 20 other actual protests in cities elsewhere, and tens of thousands of more workers protesting online.
"I don't think there would be strikes happening in 20 cities all on the same day if this was not a widely experienced condition of all workers in fast-food restaurants," said Service Employees President Mary Kay Henry. SEIU is a key backer of the Fight for $15 And A Union movement.
That movement includes not just exploited, and now endangered, fast food workers, but warehouse workers at similarly vicious firms like Amazon, gig economy workers at Uber and Lyft, adjunct professors at colleges around the U.S., and port truckers.
McDonald's workers who couldn't join a real picket line assembled a virtual picket line via Facebook. The workers also used that social medium to meet with Sen. Elizabeth Warren, D-Mass., who again pledged to fight for them.
Specifically, she promised to try to insert the Essential Workers Bill of Rights, sponsored by her and Rep. Ro Khanna, D-Calif., into the Senate version of the latest economic stimulus bill. Khanna also posted a pro-worker statement on Fight for $15's Twitter feed.
Warren may not get the chance. GOP President Donald Trump is throwing cold water on more stimulus money, especially for workers. And Senate Majority Leader Mitch McConnell, R-Ky., slavishly follows his lead. Further, Khanna failed to get it into the House-passed $3 trillion bill.
That didn't stop the workers, or their supporters, on the picket line and online. "McDonald's can do the right thing and protect its workers. It is choosing not to," Henry said.
"McDonald's, which made $6 billion in profit last year, must provide health care and paid sick leave to all who wear its uniform" if they get sick from COVID-19, Fight For $15 said.
"The world's second-largest private employer should provide any necessary relief to franchisees so that all workers, systemwide, are covered," the group said in announcing the strike. It also said McDonald's, not the taxpayers—through a prior economic stimulus bill—should pay the workers and cover their health care.
Several people on Twitter made that same point, noting local McDonald's franchises got federal "small business" aid. One pointed out McDonald's plans to start reopening restaurants so it can pay workers with the federal cash while pocketing restaurant receipts, thus enlarging its profits.
"In this moment of crisis, you'd hope McDonald's, which has stores in nearly every community in the country, would do the right, patriotic thing and offer paid sick leave to its workers—to protect workers, customers, and entire communities," Fight for $15 continued.
"McDonald's can choose to be a leader for good in the fast-food industry, or it can continue to drive a race to the bottom, with billion-dollar companies either looking to taxpayers to foot the bill or not looking at all while their workers suffer as a result of their decisions.
"If McDonald's doesn't act, our government should force it and other fast-food giants to provide health care and paid leave to all employees who wear their uniforms, with no exceptions."
The workers and their supporters, in tweets and video responses, were even blunter.
"We've held numerous strikes and protests since the pandemic because we didn't feel safe on the job. We can't keep choosing between our health and our jobs. That's why we're striking. @McDonalds needs to #ProtectAllWorkers now!" Fight for $15 tweeted.
"FYI. THIS is more common than folks realize. MANY companies are telling us what they are doing yet when you talk to the workers, they tell a VERY different tale!" Alicia Cotilla tweeted.
"I want them wearing masks and gloves because, it protects me," part of James Sparenberg's tweet read. "I want them to wear gloves and masks and change them frequently. I also expect corporate to provide them," Cindy Leonard tweeted.
Another Twitter user, identified as "Speedbird," added: "And now we understand why McConnell wants to indemnify corporate America against employees and customers suing" in case they catch the virus in firms' restaurants or plants. Referring to campaign contributions, Speedbird asked, "Any guesses on how much McDonald's has ponied up?"
That prompted a tweeted reply from retired Marine Corpsman Jack Phelan: "How will we get our politicians to force corporations to do the right thing when 99% of our politicians are virtual employees of corporate America?"
"@McDonalds workers need a union," @Q State_Fun tweeted. "Frankly in the Trump era EVERYBODY needs a union!" tweeter @d4s3r replied.