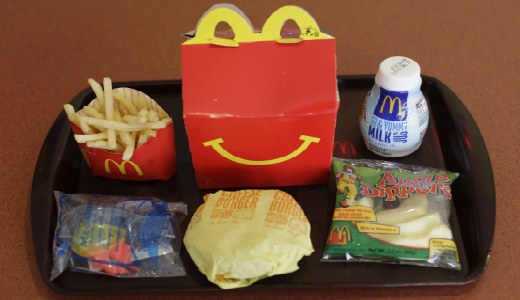 For nearly 50 years no one has been better at hooking kids on unhealthy food, spurring an epidemic of diet-related diseases than McDonalds, especially their Happy Meals, say more than 550 health professionals and organizations.
"As health professionals engaged directly in the largest preventable health crisis facing this country, we ask that you stop marketing junk food to children," they wrote in a letter to McDonald's CEO Jim Skinner recently.
Corporate Accountability International, a non-profit organization based in Boston that aims to challenge corporate abuse on behalf of public interests, is leading the coalition.
"The rates of sick children are staggering," says the letter. "Health care costs and an overburdened health care system make treatment more difficult than ever. And we know that reducing junk food marketing can significantly improve the health of kids."
The letter continues, "McDonald's and industry front groups have refused to address the dangerous toll that fast food predatory marketing is taking on our kids."
During McDonald's annual shareholders meeting May 19 at its national headquarters in Oak Brook, Ill., a resolution was submitted by health professionals and institutions nationwide calling on the fast-food chain to produce a report assessing the problem.
"McDonald's has long left a critical element of its annual earning reports off the books – the spiraling costs to our children's health and the health care system from its business practices," said Kelle Louaillier, executive director of Corporate Accountability, in a statement on its website. "Starting with this landmark resolution it's time the corporation stopped attempting to nutria-wash the costs of its marketing and overall business practices to shareholders and the public."
The resolution received six percent of the vote at the meeting and comes on the heels of the introduction of sweeping Federal Trade Commission guidelines urging corporations to stop marketing junk food to children.
Full-page ads were also launched this week in major newspapers nationwide asking McDonalds to retire its famous franchise character Ronald McDonald. A campaign launched in 2009 called Value the Meal, led by Corporate Accountability International, has been challenging McDonald's and the fast food industry to curb the range of its practices that contribute to the epidemic.
Mary Engen, a grandmother from Minnesota, said that she has taken her grandchildren to McDonald's "since they are infatuated with your children's characters, like Ronald, and the fun environment you create to appeal to children." However, she adds, "The relationship that you create with children sends the wrong message, equating fun with food that is high in fat, salt, sugar and calories."
Critic's charge McDonald's has trotted out a range of public relations and sales gimmicks aimed at "nutria-washing" its image in order to maintain and expand its market share. Earlier this year, McDonald's debuted oatmeal with the nutritional value of a Snicker's bar, strawberry lemonade that has more sugar than Coca-Cola and smoothies that rival a medium fries for calories – items that are supposedly healthier.
McDonald's also poured hundreds of thousands of dollars in opposing measures like San Francisco's Healthy Meals Incentive ordinance, which sets the basic nutritional standards for kids' meals accompanied by toy giveaways. McDonald's and the National Restaurant Association have advanced public policies preempting similar laws in Florida and Arizona.
Dr. Don Zeigler, director of Prevention and Health Promotion at American Medical Association in a statement said, "We're in the middle of a public health crisis, a virtual slow motion catastrophe of non-communicable diseases, which is exacting a crippling human toll. Parents and the health community have lost their appetite for McDonald's empty promises and unwillingness to truly address its significant contributions to the crisis."
In its defense, McDonald's, in a statement to the Wall Street Journal said, "We are committed to responsible advertising and take our communications to children very seriously. We understand the importance of children's health and nutrition, and are committed to being part of the dialogue and solution. We serve high quality food, and our Happy Meals offer choice and variety in portions just for kids. Parents tell us they appreciate our Happy Meal choices."
For decades the fast food chain has used the face of Ronald the clown to represent its Ronald McDonald House Charities, which provides free or inexpensive housing for families who must travel to get medical treatment for a child. Ronald still shows up as often as ever at camps for sick children and charity events.
However, while that's a worthwhile charity, "to use that as their excuse for marketing junk food to kids is sort of having their burger and eating it too," said Corporate Accountability spokesperson Nick Guroff to the Associated Press.
Photo: A McDonald's Happy Meal, toy and all. (AP Photo/Eric Risberg)