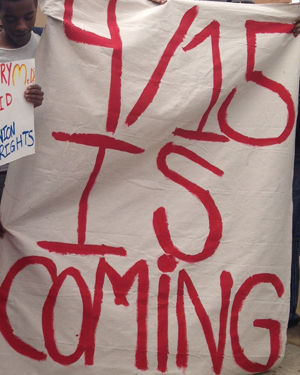 ST. LOUIS – Just a day after announcing the largest one-day strike across 200 cities, fast food workers and other low-wage workers were back out in the streets, in front of the golden arches, calling McDonald's recent move to raise wages for 90,000 corporate store employees nothing but an orchestrated publicity stunt.
"This just has to be an April fools joke," declared Justin Johnson, a 21 year-old McDonald's worker from St. Louis. "The only reason McDonald's is raising their wages is because of what workers like me have been doing for two years: organizing 'till we get $15 and a union"
On Apr. 1, McDonald's said that it would raise pay at U.S. Company-owned stores — only about 10 percent of its over 14,000 of domestic locations — by $1 dollar above the local minimum wage. It will also begin offering vacation benefits as part of the new plan that will go into effect on July 1, 2015.
So what does that mean for the over 750,000 franchise-owned employees?
"That millions of families working for poverty wages will continue to struggle until McDonald's pays a living wage and recognizes fast food workers Fight for 15 movement as a union," was the response from the National Fight for 15 campaign and its allies.
"You know, we know, that what you pay is way to low!" was the local battle cry for the 25 fast food workers out in the rain at an 11 a.m. press conference held at a downtown franchise McDonald's Apr. 2.
Justin Johnson, addressing his fellow fast food workers, reminded McDonald's that "Apr. 15 is still on!  We wont stop until all low-wage workers get that 15 and union recognition without retaliation!"
Facing a decline in sales in the two years that the Fight for 15 has been organizing. This "initial step," as McDonald's CEO Steve Easterbrook called it, has drawn the fury of the fast food workers movement and given them another reason to step up their fight.
Photo: Al Neal/PW