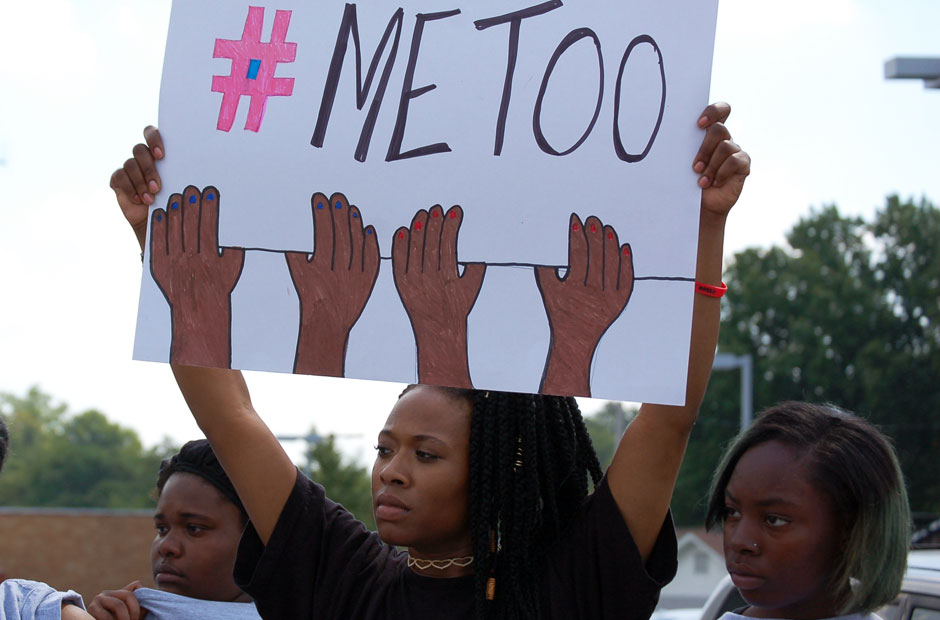 ST.LOUIS – Barbara Johnson, an 18-year-old McDonald's worker and leader with Show Me 15, part of the national Fight for 15 campaign, had a message to deliver to her employer yesterday afternoon: "I am a victim of sexual harassment."
Speaking from a podium surrounded by several dozen fast-food workers and community members, McDonald's iconic "golden arches" in the background, Johnson recounted her traumatic, on the job sexual harassment experience.
"It was November 2017. I had only been on the job a few days, but I felt today was going to be different," she said. "I clocked in and that's when he (her shift-leader) started saying that I had 'juicy lips,' was 'thick in all the right places,' that my 'body looked good in the uniform' and just kept going. After a while, he would just look over at me and start licking his lips while making threatening gestures at me.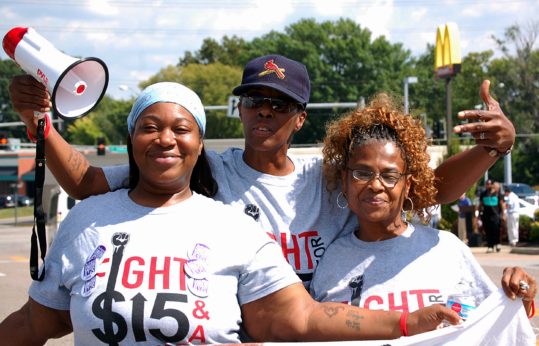 "I was only 17-years-old then…and it terrified me," she continued. "I didn't know what to do or who to turn to. During my orientation sexual harassment was never brought up—we were never prepared for this and shouldn't have to experience it in the first place. I'm here to let McDonald's know that enough is enough. Our voices will be silent no more and we will not stop until every single voice is heard."
"Hold the burgers, hold the fries…Keep your hands off our thighs"
Like Johnson, the other McDonald's workers supporting and surrounding her, went on strike demanding McDonald's strengthen and enforce its zero-tolerance policy against sexual harassment; hold mandatory trainings for managers and employees and create a safe and effective system for receiving and responding to sexual harassment complaints; and the  formation of a committee that includes McDonald's workers, McDonald's corporate and franchisee representatives, representatives of leading national women's rights groups like the Time's Up Legal Defense Fund, the National Women's Law Center and Equal Rights Advocates to address sexual harassment issues at the company.
Tuesday's strike took place in nine other cities—Chicago, Los Angeles, Miami, New Orleans, Orlando, Kansas City, Mo., Milwaukee, and San Francisco—and found workers themselves adding on a last minute demand: Drop Seyfarth Shaw at Work, a subsidiary of the historic anti-union law firm Seyfarth Shaw, who defended the Weinstein Company in harassment issues, and was retained by McDonald's to address workplace sexual harassment issues.
McDonald's did not comment on the strike but released a statement saying. "We have policies, procedures and training in place that are specifically designed to prevent sexual harassment at our company and company-owned restaurants, and we firmly believe that our franchisees share this commitment."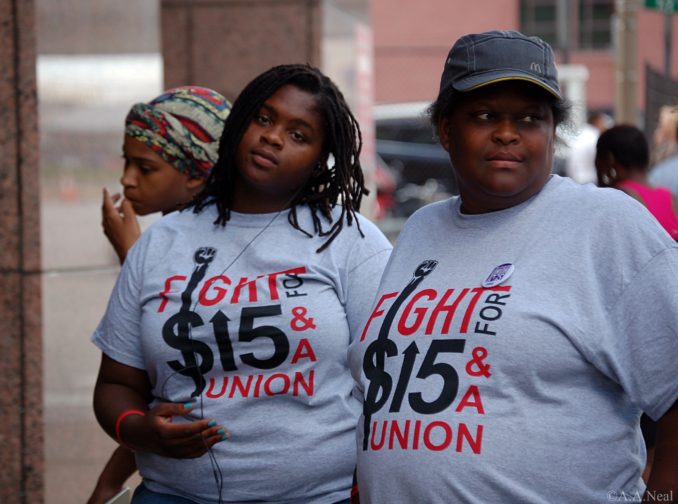 The fast-food workers "MeToo" strike was coordinated nationally by each campaign's "Women's Committee" and comes four months after McDonald's workers nationwide filed 10 sexual harassment charges, supported by the TIME's UP legal defense fund, with the Equal Employment Opportunity Commission (EEOC)—each individual charge describing the cringe-worthy harassment experienced by female workers.
In St. Louis, fast-food workers loaded up their vans, hit the gas pedal, and sped down Interstate-64/HWY 40. Their destination was the local EEOC office, inside the Robert A. Young federal building downtown.
Johnson was ready to march in and file her complaint against McDonald's.
With around 30 workers and community members following behind, Johnson and her mother, Latasha Chapple, marched up the ramp only to be met by security blocking the door.
"I'm just here to file my complaint with the EEOC," Johnson said.
"We understand, but we can't have all of you go up into the office…this isn't an issue for us, we're just waiting to hear from the EEOC staff if everyone going inside is ok."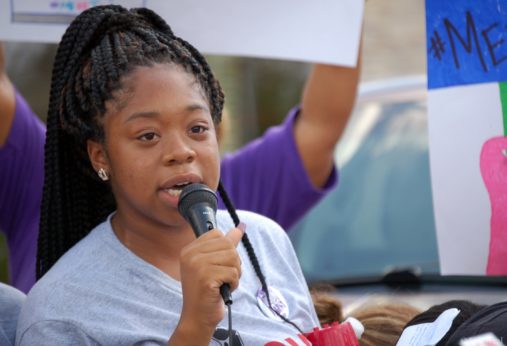 After 15 minutes, and several private conversations and phone calls, Johnson, her mother and nine other workers were able to go inside. Only a few moments later, Johnson walked back outside, a small grin spreading across her face, as cheers went out.
"I did it…I just filed my complaint to let McDonald's know we won't be silent anymore."
When asked about her daughter taking a stand and speaking out, Chapple said: "I'm hurt because it happened to my daughter, but I am so proud of her for coming out and speaking about what happened. I know it's never easy speaking out about these things, you can see on their faces how much it hurts them, but I'm proud. I'm also angry at McDonald's for letting it continue and I'm ready to fight back until we see real change come. As a mother…I would never want this to happen to any child, female or male, and I will keep fighting until we get justice."
A 2016 Hart Research survey showed 42 percent of women in the fast-food industry who experience unwanted sexual behavior feel forced to accept it because they can't afford to lose their jobs. The report found that 40 percent of female fast-food workers experience sexual harassment, and more than one in five (21 percent) who file complaints experience negative actions, including schedule changes, additional duties, reduced work hours, and denial of wage increases.
Keep that in mind next time you bite into a Quarter Pounder with Cheese.