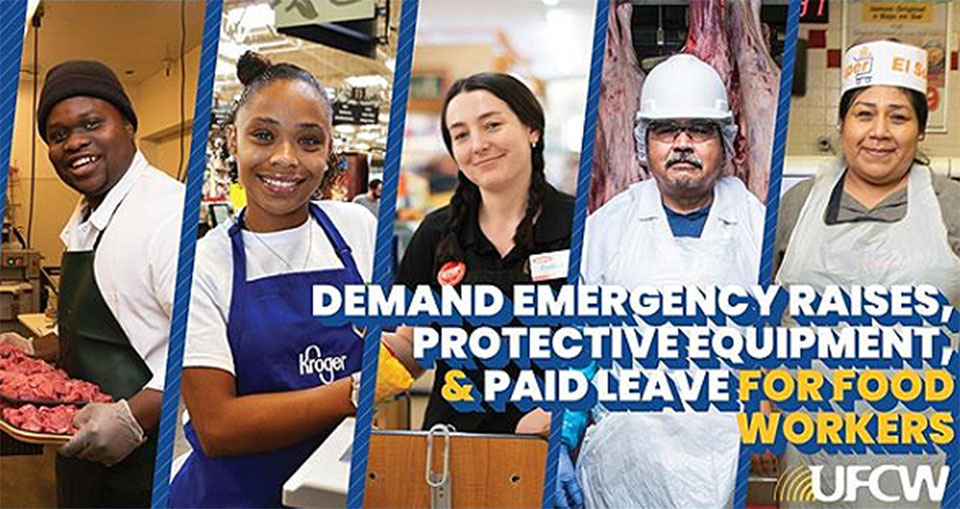 DUNMORE, Pa.—Three meat-packing workers at the Maid-Rite Specialty Foods plant in Dunmore, Pa.—two of whom have already tested positive for the coronavirus—sued the Trump regime's Occupational Safety and Health Administration to force it to inspect and cite the plant for "imminent hazard" from the disease, and force the firm to fix its problems immediately.
The workers, identified as Jane Does I, II, and III to protect themselves against bosses' retaliation, said in their lawsuit in U.S. District Court in Harrisburg that even though OSHA has known about conditions at the plant since early April, it's done nothing.
The suit, filed on the workers' behalf by two non-profit pro-worker legal groups, Public Justice and Towards Justice, also discloses that while OSHA issued guidance to meatpackers nationwide about how to protect their "essential" workers—as proclaimed by GOP President Donald Trump—it doesn't treat such workers as high-priority for investigations, much less enforcement against violators.
Instead, meatpacking workers are classified as only at "medium risk" for the disease, OSHA area officials admitted to the public interest lawyers, whom the workers designated as their representatives.
The lawsuit highlights just how high-risk meatpacking workers are nationwide from packers' practices which, as it says, emphasize meat production over worker protection.
"America's meatpacking workers have been on the frontlines of this pandemic since day one, putting themselves in harm's way to make sure our families have the food we need," United Food and Commercial Workers (UFCW) President Marc Perrone said on July 9.
"As COVID-19 continues to put our country's meatpacking workers at risk, we must take action to reduce line speeds in these plants to ensure workers can maintain social distancing and stay safe on the job." UFCW represents 250,000 meatpacking plant workers nationwide, though not those at Maid-Rite.
Centers for Disease Control figures back up the need for protecting meatpacking workers from the coronavirus. In April and May alone, "among 23 states reporting COVID-19 outbreaks in meat and poultry processing facilities, 16,233 cases in 239 facilities occurred, including 86 (0.5%) COVID-19–related deaths," a CDC study shows.
The suit also points out that Maid-Rite's meat—mostly ground beef—gets shipped to, among other places, schools in Ohio, Houston, and Orlando, Fla. Texas, and especially Houston, have seen recent huge rises in coronavirus caseloads. So has Florida.
As of 9:50 a.m. on July 24, the coronavirus had officially infected 4.041 million people in the U.S—26% of the world total—since the pandemic was first declared on March 13, and killed 144,320 (23%), according to the most authoritative source, Johns Hopkins University.
Maid-Rite produces pre-packaged lunchroom meat for schools, universities, and military bases "under conditions that pose an imminent danger to the workers through the risk of death or serious harm from Maid-Rite's failure to take basic precautions to protect workers from the spread of COVID-19"—the official name for the coronavirus—"at the plant. Instead, perhaps in an effort to reduce its costs, Maid-Rite adopted policies and practices that substantially increase the risks of spread of disease," the court papers say.
Those practices include not providing protective face masks, failing to reduce line speeds, no time for handwashing, putting workers side-by-side or, if they're across from each other on the production line, less than three or four feet away, no sanitizers, no warning to other workers who may have been infected by a coronavirus-positive colleague and offering bonuses to workers to come into the job seven days a week, while withholding them from workers who call in sick.
The plant also rotated in workers from outside "in a way that increases the risk of spreading the virus." And the plant runs a point system that penalizes a worker a point for every sick call. Six points and you're fired, the suit says.
"The meat and poultry processing industry has been devastated by the COVID-19 pandemic, with infection hotspots appearing in plants across the country," Rep. Marcia Fudge, D-Ohio, co-sponsor of legislation to force reregulation of the industry, said when she joined Perrone to discuss the issue.
"Fast line speeds make the dangerous conditions workers at these plants already face even worse by packing them closer together and placing them at greater risk of contracting or spreading the virus. Waiving limits on processing speeds also threatens the safety of our food supply. As COVID-19 cases continue to soar at processing plants, we must prioritize worker, food, and animal safety over increased production and profits."
The workers' lawsuit makes the same points.
"Through the practices it has adopted at the Plant, Maid-Rite has violated and is continuing to violate its duty to provide a place of employment free from recognized hazards likely to cause death or serious harm to its workers." The suit says Maid-Rite did so "perhaps in an effort to reduce costs."
"To state the obvious, Maid-Rite can alter these dangerous practices if it will simply assume the costs."
The workers, using an Occupational Safety and Health Act provision that lets workers sue the Labor Secretary if OSHA doesn't enforce the law, want the judges to issue an immediate injunction to force the agency to act. And they want a quick hearing and ruling because of the coronavirus threat to the rest of Maid-Rite's workers.