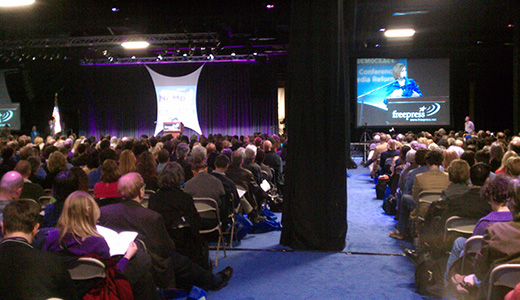 BOSTON – More than 2,500 activists at the National Conference for Media Reform this weekend discussed the fight to defend and expand freedom of the press in the face of corporate power grabs.
High on the list of concerns was the growing monopolization of media ownership, and moves by media giants like Comcast, AT&T and Verizon to control who sees or uses what is on the Internet.
The signficance of the issue was highlighted by the fact that House Democratic leader Nancy Pelosi took time from the Washington budget battle to "be here in Boston," she said, because a "free press is the most important element in our democracy."
Pelosi strongly advocated for "net neutrality" – an open Internet with equal access for everyone. "No one should guard the gate of our freedom of speech," she told the conference opening plenary on Friday.
A battle over these issues has been ongoing at the Federal Communications Commission. Former FCC Chair Michael Powell (son of Colin Powell), named to the post by President George W. Bush, led changes in media ownership rules that opened the gates to what several speakers at the conference called "plutocracy" – the growth of a few giant media conglomerates that control the public's access to news and information.
Last December the FCC adopted rules for Internet and wireless providers that protect the public in various ways. But these rules too have drawn criticism for allowing wireless companies to restrict their customers' Internet access.
"Some think these are inside-the-Beltway issues," FCC Commissioner Michael Copps told a crowd that overflowed a large ballroom at the conference Friday for a National Town Hall on the issue. But what we are experiencing is "evisceration of the public interest," he said. "To me it's the most important issue facing the country."
Noting pressing national concerns like joblessness and education, Copps said, "The resolution of all other issues rides on how they are depicted in the media."
Copps, who has served on the FCC since 2001, has emerged as a leading public interest voice on the commission.
He and other speakers during the April 8-10 conference made the point that print newspapers and television have fallen almost entirely under the control of giant corporations – like GE, which owns NBC. The Internet remains free and open. Will we allow this new media now to be "gatekeepered" by monopoly corporate control? This was one of the overriding themes here.
Copps' FCC colleague Mignon Clyburn emphasized that ensuring wireless access is particularly vital in low income and minority communities. Lower income households are more likely to "cut costs by cutting the cord," and "Hispanic and African American people are more likely to be wireless than whites," she said.
Many speakers cited the recent AT&T acquisition of T-Mobile as a dangerous monopolizing development that could spur higher charges and reduced access for consumers. Alluding to this, Clyburn said, "We must be super-vigilant about the direction wireless is heading."
Looking at the problem from another angle, Chicago Sun-Times columnist and ABC TV political analyst Laura Washington said in Chicago's South Side, African Americans and Latinos are "living in a communications desert" because of media stereotyping and failure to report accurately about these communities. Speaking in a panel on "Journalism and Democracy: Rebuilding Media for our Communities," Washington tied the problem to lack of diversity in newsrooms, a situation that has worsened as media corporate owners have cut back. Even though people of color make up about 36 percent of the U.S. population, she said, they are down to about 12 percent in media newsrooms.
In a panel titled "News for All: The Epic Story of Race and the American Media," New York Daily News and Democracy Now journalist Juan Gonzalez spoke of the "inability of our media system to provide the public with the information they need."
"We are at a critical juncture," he said, with a "fundamental battle" between "those who want a centralized system" where "a few companies at the top are the gatekeepers" versus those who want a "decentralized system."
Citing the role of minority journalists and media from the 1800s on, he said it has only been in periods of decentralization, when hundreds of small newspapers flourished, that minorities have been able to be heard. Therefore, he said, minorities have an interest in today's struggles for media democracy.
Many speakers called for public initiatives to promote media diversity and access. Pelosi highlighted a current battle. "Imagine!" she said. "One of the first bills the new [Republican] majority brought to the House was to cut funding for public broadcasting."
University of Illinois communications professor Robert McChesney, among others, argued that public funding is essential to democratic media.
"Journalism is not a business enterprise, not a private good. It's a public good," he said. The "market" will not provide the nation with the media it needs, he said. "If we're going to have journalism, it's going to require massive public subsidies."
McChesney is a founder of Free Press, which organized the conference.
A wide variety of panels covered topics like local community radio – a growing grassroots phenomenon; privacy and censorship in the age of Google, Facebook and Twitter; building a people-powered movement for Internet freedom; citizen journalism; artists, pop culture and advocacy.
Photo: Nancy Pelosi addresses opening plenary session at the National Conference for Media Reform, April 8, 2011, Boston. Andrew Whitacre CC 2.0