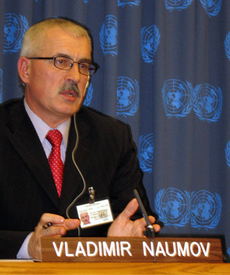 UNITED NATIONS — At a recent conference here sponsored by the Republic of Belarus on the global problem of sexual slavery, two high-ranking officials from Belarus spoke to the World about the responsibility of the mass media in the fight against sex trafficking.
The U.S. government estimates that about 20,000 people, mainly young girls and women, are trafficked into the United States each year. Unlike prostitutes seeking earnings, the victims are unpaid captives under the total control of their owners. Some are baited into slavery by promises of well-paying jobs, while others are abducted. Still others are sold to traffickers by desperately poor families.
The problem is truly global in scope. Belarus Interior Minister Vladimir Naumov said it involves countries of origin like Belarus, where the victims are found; countries of interim transit; and countries of destination, where the victims end up.
The media in countries of origin should fight trafficking, Naumov said, by alerting potential victims of the dangers they face. Traffickers lure potential victims by "offering extremely good conditions when people want to get a job somewhere abroad, or [by telling] girls or women that somewhere in the world they can simply earn a lot of money." The media has a duty to expose their likely fate, he said.
The mass media in countries of destination, he said, should fight trafficking by bringing public attention to the fact that "if in some particular country somebody is making a lot of money or getting some kick out of it, in another country this causes nothing but grief."
Natalya Petkevich, deputy head of the presidential administration in Belarus, told the World that even after sex slaves escape their situation, they are often stigmatized.
"Let us be frank," she said. "People in a society can take different attitudes and view differently women who have become victims of human trafficking." She underscored the importance of education, and the role of the mass media in particular, in removing such stigmas.
Unfortunately, Petkevich observed, the media not only ignore their role in fighting sex trafficking, but often end up promoting it through the advertising columns of profit-oriented newspapers.
In countries of origin, the main announcements of jobs or study somewhere appear in such papers, while in destination countries, certain newspapers help line their pockets by advertising sex-trafficked women, she said.
Bolstering Petkevich's remarks, the U.S. Department of Justice reports that ads featuring specific ethnicities, like those that appear in the pages of the Village Voice and other U.S. newspapers, are often placed by sex traffickers. The Voice alone currently generates about $80,000 per month through "adult" advertising.
dmargolis @pww.org