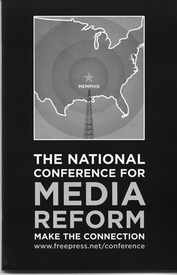 MEMPHIS, Tenn. — The media reform movement has come into its own with its most recent conference held here Jan. 12-14. Emerging out of a loose coalition of forces concerned about corporations controlling most of what Americans see, hear and read, the conference showcased a movement that has reached a new level of breadth and sophistication, and that sees its mission as safeguarding democracy.
The three-day conference, attended by more than 3,200 people, brought together a cross-section of concerned citizens, activists, bloggers, journalists, academics, cultural workers, non-for-profits, union members and big names like Jane Fonda, the Rev. Jesse Jackson, Helen Thomas and Bill Moyers. Sen. Bernie Sanders (D-Vt.), Reps. Ed Markey of Massachusetts, Maurice Hinchey of New York and Steve Cohen of Tennessee, and two FCC commissioners also attended. The FCC, or Federal Communications Commission, is the government agency that regulates media and other communication systems.
Many conference speakers celebrated the defeat of the Bush administration in the November elections. All stayed on message — targeting the big corporate and right-wing interests that have taken over the news and other sources of information. Speakers also blasted the commercial media's role in the run-up to the Iraq invasion.
However, the conference was not only critiques. Creating an alternative democratic vision through stories about, for and by workers, women, youth, people of color and other democratic forces was also in the mix.
"Martin Luther King Jr. didn't get famous giving a speech called, 'I have a complaint,'" said Van Jones, founder for the Ella Baker Center for Human Rights. "The brother had a dream. We need to be able to have a movement that stands for that."
Actor Fonda, who co-founded the Women's Media Center, exposed the gaping gender inequities in the media, including the alternative media. "We need more estrogen up here," she said earnestly.
Nevertheless, Fonda held most of her fire for the commercial press. "The absence of women in the media is glaring. Today, I hope to show you that a media that leaves women out is fundamentally, crucially flawed." After all, she said, you cannot tell the whole story when you leave out half the population.
Fonda, a powerful icon of the antiwar movement, flogged the media for ignoring women and children in this illegal Iraq war. She charged that the media does not serve the public interests and democracy. "We need a media that enriches public discourse, not one that enriches corporations. A truly powerful media is one that can stop a war, not start one," she said.
Speakers evoked the civil rights movement, and especially, Dr. King's legacy, throughout the conference. "The nettlesome task about which Dr. King spoke is still being carried out by people who embody character, courage and the fortitude to make decisions in support of truth, not spin, people who critically embrace diversity and reject monopoly," actor and activist Danny Glover told the crowd.
With a new Congress, the conference touched on legislative possibilities for media reform. Rep. Hinchey said legislation governing media reform is possible in this session of Congress, but only with continued public pressure. Hinchey sponsored the Media Ownership Reform Act, a bill that would rein in media monopolies and reinstate the Fairness Doctrine that requires broadcasters to present issues in an all-sided manner. That kind of equal access, he said, was "wiped out" in 1987 by President Ronald Reagan.
He urged the public to put pressure on Congress on this issue because it is so crucial to a "free and open society." It will take some prodding though, he said. "When you're a politician, you rely on media for your election or re-election. For some it's difficult to stand up to corporations who own it."
Sponsored by Free Press, a nonpartisan group co-founded in 2002 by media critic Robert McChesney, lobbyist Josh Silver and journalist John Nichols, the gathering was the third National Conference for Media Reform. Previous conferences were held in 2003 and 2005 in Madison, Wis., and St. Louis, respectively.
"After years of fighting to prevent further consolidation of media ownership and the dumbing down of our airwaves, the movement is ready to pursue reforms that will transform American media," McChesney said.
In the most recent round, this growing media reform movement is targeting the FCC, which is considering rule changes to let giant media companies get even bigger. For more information and to get involved go to: StopBigMedia.com.
Teresa Albano (talbano @ pww.org) is editor of the People's Weekly World.