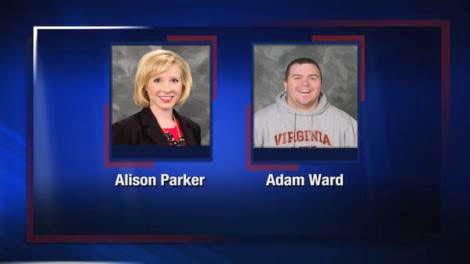 WASHINGTON (PAI) — National media unions are "heartsick" over the murder of two television journalists in the Roanoke, Va., area who were killed for doing their job.
WDBJ reporter Alison Parker and cameraman Adam Ward were murdered on August 26 as they were interviewing a local business official for a live early morning news show. The murderer, an embittered former colleague, later shot himself after a police chase, and died.
Vicki Garner, whom Parker and Ward were interviewing, was also shot. She is recovering in a local hospital. Video of the shootings, including video from the shooter's cellphone, at first circulated on the Internet but was later pulled.
"We are heartsick over the killings of WDBJ reporter Alison Parker and cameraman Adam Ward. Our thoughts and prayers are with their grieving colleagues, friends and families," said Communications Workers Secretary-Treasurer Sara Steffens, a former reporter in San Jose, Calif. CWA includes both print and broadcast journalists and other media workers.
"We also pray for the recovery of Vicki Garner, the woman the journalists were interviewing, who was badly wounded," she said. The News Guild and the National Association of Broadcast and Employees and Technicians, both CWA sectors, joined in the statement.
"Whatever the shooter's motive, two young people who were looking forward to long and happy lives are gone today. We join with WDBJ, the Roanoke community and all those who loved Alison and Adam in mourning their loss," the statement said.
"The threats journalists face on the job every day do not normally include their coworkers. But tragically, work-related shootings and other violence are not uncommon in the United States. Our members in the media sector and all of the Communications Workers of America are gravely concerned about this issue and committed to helping build safe workplaces," Steffens added.
Statistics compiled by reporters' groups show that since records started in 1837, at least 39 U.S. journalists have died on the job in this country. Most wrote for ethnic-group publications, and their stories angered powerful people or groups in their communities.
But the first recorded death of a journalist for doing his job was the notorious murder, by a pro-slavery mob, of crusading abolitionist editor Elijah Lovejoy, in Alton, Ill.
And the latest to die in the U.S., eight years before the murders of Parker and Ward, was Chauncey Bailey of the Oakland Post. While investigating municipal corruption, Bailey was shot to death in his own driveway by a hit man hired by one of the pols he exposed.
The prior deaths before Bailey were of eight journalists killed by the Sept. 11, 2001 terrorist attacks that destroyed the World Trade Center. Seven were NABET broadcast technicians working inside the buildings. Photographer Bill Biggart was killed by falling debris from the collapsing WTC North Tower while photographing the attack.
Photo: Reporter Alison Parker and cameraman Adam Ward were shot and killed while doing a live TV interview. Newsguild.org.