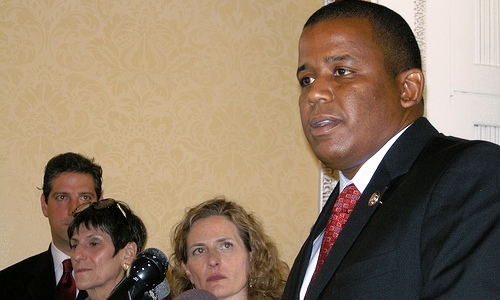 TAMPA, Fla. — The race for Florida's Senate seat looks to be a tight one. The Republicans are out in full force to maintain their seat and the lead up to the August primary is already brutal.
Slugging it out for the Republican nomination are front-runners, Gov. Charlie Crist, and tea party favorite, Marco Rubio, former state house speaker.
Rubio has been getting most of the press for his outlandish far right-wing views and his clashes with soon to be ex-governor Crist.
According to opinion polls, Rubio leads Democratic front-runner Rep. Kendrick Meek, 48% to 32%, and Crist leads Meek, 45% to 32%, which is down from February when Crist's lead was 48% to 32%.
Some early scenarios have Crist losing the Republican primary to Rubio and running as an independent. Even in such a three-way matchup Meek comes in second with 25% of the vote, Rubio leads with 45% and Crist comes in third at 22%.
However, Meek could pull off a November upset if he wins the Democratic primary. Meek, who is African America, is already on the road to doing something unprecedented in Florida. He may be the first ever statewide candidate to be on the ballot by petition, and not by paying a hefty fee.
On March 29, the congressman turned in more than 145,000 signatures to get on the ballot. Florida offers two ways to get on a statewide ballot: pay $10,000 (the highest filing fee in the nation) or turn in petition signed by at least 1 percent of all registered voters from the past general election. According to the Pensacola News-Journal, that means at least 112,476 valid signatures from all 67 counties in the state.
Meek decided to run a grassroots-style campaign. His campaign manager, Abe Dyk, told the media, ""This is the first candidate placed on the ballot by the people of Florida and not by a check."
"This election is going to be all about who can get their voters out," Meek said in a recent interview. "I believe that when someone signs on the dotted line, it means something." Meek said he believes "no other candidate" has spent more time talking to voters than he has in the past year.
Meek's congressional district is in the Miami-Dade area, but his petition campaign reached far beyond South Florida, SunshineStateNews.com reports. "We're going to be counting on not just the I-4 corridor, but the I-10 corridor," Meek said. "We made it a point to focus on Jacksonville," he said, referring to thousands of signatures his campaign brought in from Duval County. "I don't want to be competitive in Duval County. I want to win it."
Meek said he has campaigned in Escambia County five times so far in the campaign and thinks he will do well in North Florida come November.
The petition process, he said, has helped his campaign in many ways, such as increasing recognition across the state and building his campaign team.
"It's made me a better candidate," Meek said.
Ethic charges plague the Republican front-runners. The St. Petersburg Times reports, "Republican Gov. Charlie Crist may have crossed a legal line" by making a $16,676 American Express payment to reimburse the state Republican Party's then-executive director for "shirts, hats and other paraphernalia" given out at a GOP event last year.
The problem: campaign finance laws prohibit state parties from contributing more than $5,000 to a primary campaign.
Crist's campaign argues that the event in question was a "party function" and "not a campaign function."
Rubio has also faces ethics charges. Again, the St Petersburg Times says, "Republican Marco Rubio got hit with an ethics attack, too, as Fort Lauderdale resident Michael Ryan filed a complaint against the former state House speaker for misusing state party and PAC funds to subsidize his lifestyle." Rubio's campaign dismissed the complaint as "political stunt by Democrats who are either working directly with Charlie Crist, or have already looked past Crist to a general election fight with Marco Rubio."
Photo: Rep. Kendrick Meek, far right. http://www.flickr.com/photos/thirdwaythinktank/ / CC BY-NC-ND 2.0