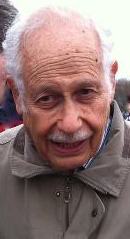 Meet Victor Grossman in New York City at the People's World table at the Left Forum, May 30 – June 1, at CUNY.
Grossman writes from Berlin, and many of his articles have been published on Peoplesworld.org. Some of his recent articles include
German Left party tackles the tough issues at its congress
Germany's Ukraine policy aims for the impossible
Low wage workers on the move in Germany too
At the People's World table, Grossman will be autographing copies of his book, "Crossing the River: A Memoir of the American Left, the Cold War, and Life in East Germany."
For more information on the Left Forum 2014, visit their website or Facebook page.
Mr. Grossman will participate in a panel on alternative media and political activism at the forum, Saturday May 31 from 10 a.m. till noon. More information on the panel here.
Photo: Victor Grossman visiting Buchenwald. Wikimedia Commons.