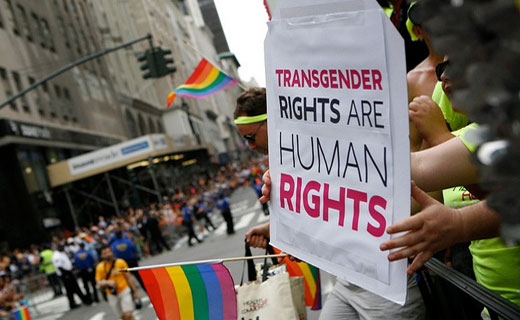 The first ever Top 100 Trans Americans list recently was announced by inaugural sponsor GLAAD (Gay & Lesbian Alliance Against Defamation), with the support of Chicago House.
The list highlights a wide range of activists and other notables, for while trans people represent the last letter in LGBT, they hardly take the back seat in the struggle for social justice.
Trans 100 (thetrans100.com) is a joint project by We Happy Trans, a website that celebrates the positive experiences of transgender people, and This is H.O.W., a nonprofit organization dedicated to the betterment of the lives of trans people.
"Telling our stories, first to ourselves and then to one another and ultimately to the world, is a revolutionary act," said activist and author Janet Mock in a press release accompanying the announcement.
Among the 100 listed are Laverne Cox, who stars in the hit series "Orange is the New Black," and bestselling author Jenny Boylan ("She's Not There"), as well as such leading lights as Kylar Broadus, founder of Trans People of Color Coalition, Navajo activist Trudie Jackson, performer Ryka Aoki, and Ola Osaze of the Sylvia Rivera Law Project.
Sylvia Rivera is a name of special significance. She was one of several trans people in 1969 who helped turn a routine mass arrest/roundup by corrupt New York police into a transformative protest called the Stonewall Riots. Rivera's work didn't end there, as she continued to advocate for trans inclusion within the civil rights movement.
"No matter how well intentioned, the fact is that no one can more effectively tell our stories than us," said Jen Richards, creator of We Happy Trans.
Richards and co-director Toni D'orsay of This is H.O.W., explained that the project intends to shift the coverage of trans issues away from negative stories, by focusing on the positive work being accomplished.
Writes D'orsay, "I am a strong proponent of empowerment, of providing recognition to others, and of creating tools and systems that enable us, as a community, to come together and celebrate the infinite variety and spectacle of what it means to be a trans person."
Among this year's honorees is Avory Faucette, a trans queer feminist activist, writer, editor and public speaker. Faucette's work focuses on marginalized identities and their relevance to law and policy.
When asked about hir work (some trans people prefer alternate descriptors "zie" and "hir" instead of "she/he" and "her/his" – Avory Faucette uses this nomenclature), Faucette responded, "As a relatively privileged trans person, I feel a moral obligation to work at the intersections of transgender identity and other axes for oppression such as race, class, and disability."
Faucette continued, "Economic inequality is the difference between the potential for a relatively self-actualized, comfortable life for a trans person and an almost impossible-to-overcome lack of that potential. While many have focused on the cost of gender-confirming surgeries and lack of access to insurance that covers those surgeries, that's just part of the picture.
"Working class trans people and those living in poverty also frequently lack access to basic medical care and non-surgical treatments such as hormone replacement therapy that may reduce a sense of dysphoria and increase safety as trans people with access to these treatments are more likely to be perceived as gender conforming."
Faucette went on to cite several trans organizations: SONG (Southerners On New Ground), Audre Lorde Project, Transformative Justice Law Project of Illinois, Streetwise and Safe, HIPS in DC, the Native Youth Sexual Health Network, and the National Center for Transgender Equality.
The Trans 100 list includes links to each person's website or a similar link of relevance. You can read/download the list at the Trans 100 website starting April 7.
Photo: AP