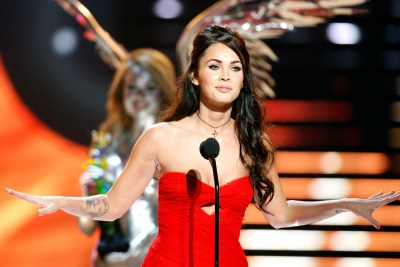 Actress Megan Fox (of Jennifer's Body and Transformers fame) and her boyfriend, Brian Austin Green, are protesting school budget cuts in California after starring in a satirical video on comic Web site funnyordie.com.
For Green, who has a son in the California public school system, it's a very serious issue to promote.
"I've learned you have to be very vocal about the quality of your kid's education," said Green. "And right now, a lot is at stake for California's schools." Just what is at stake is made perfectly clear: Republican Governor Arnold Schwarzenegger is pushing to drop an additional $2.5 billion from an education budget that, in the last two years, was cut by $17 billion.
The proposed cuts would increase the sizes of already-overcrowded classrooms, eliminate many janitorial and health services, and initiate a round of teacher layoffs. District art programs (including music, dance, and Fox's vocation – drama) stand to be cut by as much as 50%. State Superintendent of Public Instruction Jack O'Connell has stated that budget cuts have caused a 17 percent jump in the number of school districts facing financial uncertainty.
Aaron McLear, Schwarzenegger's press secretary, protests that even in the face of a $20 billion deficit, the governor "has pledged to maintain the same level of funding for education as last year."
For Fox's part, she stars in the aforementioned satirical video in which she and Green are packed into an overcrowded classroom full of 90-something fifth graders. Students sit two to a seat, lie on the floor, and make makeshift seats out of cabinets. Many don't know how to speak English, or are ill. The teacher is nowhere to be seen (she's been laid off due to the budget cuts). Fox looks on hopelessly as more kids are dumped into the classroom. The 3 and a half minute video is a nice bit of commentary on an important and critical issue that shows that these students, as well as the teachers and janitors, are seriously being undermined and denied rights. Overcrowding and layoffs are a reality not only in California, but in schools everywhere.
The end of the video provides a link (saynotocuts.com) and asks us to sign their petition and to call and tell Schwarzenegger not to terminate our teachers. It's always nice to see celebrities fighting for things like this – and the word has been getting out. The video has been viewed more than 66,000 times by Wednesday afternoon. The video is currently on the main page of funnyordie.com, where its viewers will hopefully not only get a few laughs, but think about the important message and do what they can to help kids get the education they need.
Photo: Megan Fox at 2008 Spike Video Game Awards. Megan Fox Rules!/CC