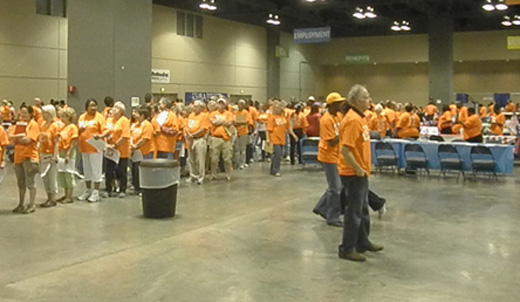 MEMPHIS, Tenn. – Project Homeless Connect 2, held here July 12, was a massive one-day event designed to connect people currently experiencing homelessness with the services available to them in Shelby County.
Organized by the Community Alliance for the Homeless, and part of the city and county mayors' plan to end homelessness, the event brought together over 825 volunteers and 1,200 people seeking services, at the Cook Convention Center.
Ten minutes before the official start of the event, about 200 people waited outside the main hall of the convention center. Sitting in rows of folding chairs it was easy to see at a glance the wide cross-section of the mid-South community affected by homelessness. Men and women of every age group sat next to one another, including mothers with their children. One woman cradled her infant child as she waited patiently for the event to begin.
The presence of uniformed police officers standing over the seated crowd added an air of tension to the room. While friendly and helpful to the volunteers, many of the officers came across as aloof and judgmental towards the attendees.
Inside the convention hall, large brightly colored vinyl banners hung from the ceiling labeling areas for barbers, housing, employment, IDs, benefits, veterans, medical, storytellers, and legal.
Each of the people seeking services at the event was paired with a volunteer in an orange T-shirt bearing the Community Alliance for the Homeless logo.
Volunteer Matt Young said that he was there "to give back" to the Memphis community. The owner of his own graphic design company and a University of Memphis graphic design instructor, Young said he "has been very fortunate." He said, "I live in East Memphis and I am not engaged with people who have less than me 99% of the time – it's easy to lose sight out there in East Memphis."
Sylvia Glover, a retired clinical nutritionist, also said she was volunteering because she "needed to give back to the community." According to Glover, "there is no end to the need" that Homeless Connect 2 was designed to meet.
Tara Austin, a full-time organizer for Community Alliance for the Homeless, was a one-woman hurricane of activity. She ran up and down the sidewalk in front of the Cook Convention Center directing the vans and small buses as they ferried people to and from the event. Between giving directions on her cell phone and talking to drivers she found time to discuss some of the challenges she has experienced in organizing the transportation.
That morning, she said, "there were members of the Hispanic community who thought that the event was part of an INS sweep." Fortunately, "a minister called in and offered his services as a translator" and was able to address the concerns of the Spanish-speaking community.
With transportation running to and from the local shelters, St. Vincent De Paul, Mana House, and the local libraries, Austin had her hands full keeping everything running smoothly.
The reasons why people experiencing homelessness came to this event were many and varied.
Billy said he came to see if he could get a pair of shoes. He "just got a job this week laying asphalt." He said, "It's hard, hot, work but it's a job." He doesn't want to "take services from someone who needs them more," from someone who has not yet been able to find work.
Thankfully, Billy was able to get a pair of shoes. As he exchanged his old white sneakers, whose soles were worn smooth nearly all the way through, with a newer pair he commented, "These are ladies' shoes so they're a little tight but they should work."
He would be laying asphalt in his new shoes for about eight hours starting at 9:30 that night.
D, a tall man in his late 30s who has been living on the streets for the past four years, was not as generous in his appraisal of the event. He wished that the people running the event would "just be real, they're doing this for political and financial reasons." D wanted to know, "If they know I'm homeless [and the shelters charge money to stay there] why don't they have vouchers for the shelters?"
As the event wound to a close Thursday evening, event coordinator Katie Kitchin reported numerous stories of success including a mother of seven who, "got to go to her [new] apartment" and one person who was able to receive "$8,000 in Social Security" payments she had been entitled to. Overall, 44 people who came to the event homeless left with secure housing.
One thing is clear from Project Homeless Connect 2: As the economy in the mid-South struggles, homelessness will continue to be an ongoing issue for the poor and working class people of Memphis.
Photo: Over 800 volunteers line up for their assignments at the Project Homeless Connect 2 event, July 12 in Memphis. James Raines/PW