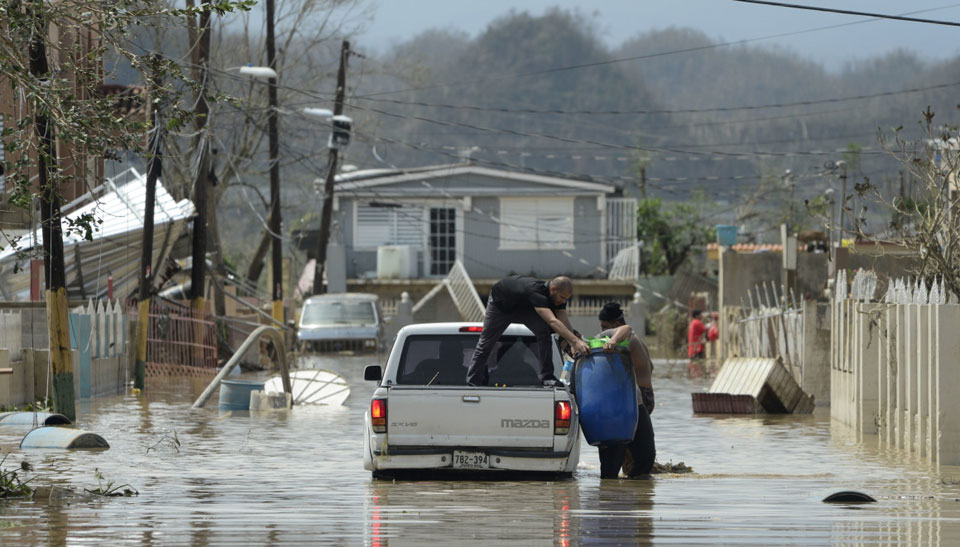 CHICAGO—Mercedes Martinez has a "homework assignment" for all of the U.S.
"I want Puerto Rico to remain visible and for people to keep in mind the political situation we face," says Martinez, president of the Federación de Maestros de Puerto Rico, a top Puerto Rican teachers union.
That situation ranges from political indifference to outright hostility. Even more so, that situation has led to financial aid to the smashed island which is far below what its three million residents need.
And it includes continuing unrepaired damage from Hurricanes Maria and Irma in September-October 2017, which killed 2,975 people, so far. It includes Hispanic-hating Republican President Donald Trump, who talks as if he doesn't realize Puerto Ricans are U.S. citizens, and who became infamous on a trip there for tossing rolls of paper towels into crowds.
It includes high unemployment and 44% poverty, the island's huge debts to rapacious Wall Street financiers and GOP-pushed closure of one-third of the island's schools and privatization of most of the rest, along with its public utility and other services.
And, to top it all off, "Since 2016, we have had a U.S.-imposed financial control board," Promesa, "that is pillaging and taking our resources," Martinez stated.
Martinez issued her homework assignment as the FMPR received a salute at the Communist Party USA's 100th anniversary Convention in Chicago. Delegates also saluted the party's Missouri district, which came close to electing Tony Pecinovsky to the St. Louis Metro Council. He lost by 52 votes out of 1,296 cast to a red-baiting incumbent. The party also gave special certificates to several 60-year-plus members, among them former People's World editor Tim Wheeler, Victor Grossman and Bea Lumpkin, a 100-year-old activist still going strong.
Other speakers at the affair included historian Gerald Horne and Samaria Rice. Cleveland police murdered Rice's 12-year-old son Tamir five years ago. He had a toy gun when he was shot by officers. She's set up a foundation to provide after-school activities for inner-city youth. The gazebo where police murdered Tamir was taken down, then rescued and relocated to Chicago's South Shore neighborhood.
Martinez said U.S. organizations must keep Puerto Rico "in their discussions" because Congress often forgets the island and its residents.
That pattern repeated itself during the last six months, when Puerto Rico sought $19 billion more to help reconstruct itself after the rampant death and destruction from Maria and Irma. The two U.S. states that also suffered significant damage, GOP-run Florida and Texas, got federal reconstruction money with few questions asked, Martinez noted.
Puerto Rico and the U.S. Virgin Islands, also smashed by the two hurricanes, were left hung out to dry, literally. Trump opposed more federal funds for Puerto Rico and only reluctantly signed the disaster aid bill lawmakers finally approved after all the wrangling. While Trump's trashed Puerto Rico, he's never mentioned the USVI. Both are majority-minority, Latino and Afro-Caribbean-American, respectively.
Federal aid has flowed slowly to Puerto Rico, with only $14 billion spent so far on reconstruction. Trump alleged Puerto Rico demands $91 billion, far more than its officials have requested.
Trump's latest hysterical tweets against Puerto Rico is part of the "political situation" Martinez discussed. The tweets prompted a sharp retort from Gov. Ricardó Rossello. He told the New York Times that historically federal treatment of Puerto Rico has had "ethnic undertones."
"We don't want special treatment. We just want equal treatment," said Rossello, who before that comment was relatively restrained in commenting on the incompetent and slow federal response.
That plight is still dire. Amnesty International reported that a year after the hurricanes 44% of Puerto Ricans still live in poverty, compared to 12% of U.S. mainland residents, and "tens of thousands are still living under blue tarps, designed as temporary roofs."
While Amnesty did not say so, the full Puerto Rican electric power grid has yet to be restored – despite the best repair efforts of Electrical Workers (IBEW) union members – and the island still lacks needed medicines, again despite the efforts of National Nurses United's Registered Nurse Response Network in the weeks immediately following the hurricanes.
Other unions, including the Teamsters – who drove dozens of trucks with supplies — also sent workers and aid to the island, while the Teachers (AFT) raised $2 million for water filters for homes and schools.