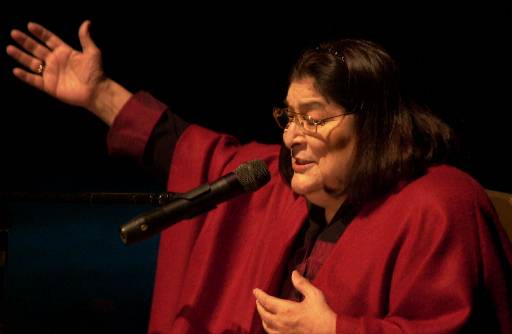 Mercedes Sosa is dead — long live Mercedes.
And she will live, in the hearts of many lovers of the Nueva Cancion, the new music form that combined modern popular music and folk music with a message of support for the exploited and a call for social justice for the indigenous people, Afro-Latinos and poor of Latin America.
She will also live in other singers to whom she passed the torch of commitment to social justice and struggle.
As a singer, interpreter of the Nueva Cancion and a member of the Communist Party, she was considered an arch-enemy of the military dictatorship that controlled Argentina from 1976 to 1983 after a coup. The regime either killed or "disappeared" perhaps 30,000 people, including children who were kidnapped and given for adoption and whose families still do not know their fate. She and her audience were arrested during a concert, and she was released after an international campaign for her freedom. Threats from right-wing squads forced her to flee, seek exile in France and live in Spain. She returned in 1982 just before the military dictatorship crumbled.
Born in Tecuman, one of the poorest northern provinces of Argentina, she died at age 72 this past Sunday, Oct. 4, in Buenos Aires, peacefully according to her son, Fabian Matus, although she suffered from hepatitis and other complications.
Sosa's fans called her fondly "La Negra" in reference to the shining black hair that she inherited from her Quechua Indian roots. Her death ended a six-decade career that began at age 15.
Her remains lay in state at the National Congress and a funeral procession accompanied her to the Chacarita Cemetery where she was cremated.
Thousands of people paid their respects with tears, flowers, dance and song. They remembered her as a person who loved humanity and justice, not just a singer. After all there have been many singers but few committed singers like Mercedes Sosa.
Photo: AP/Javier Galeano