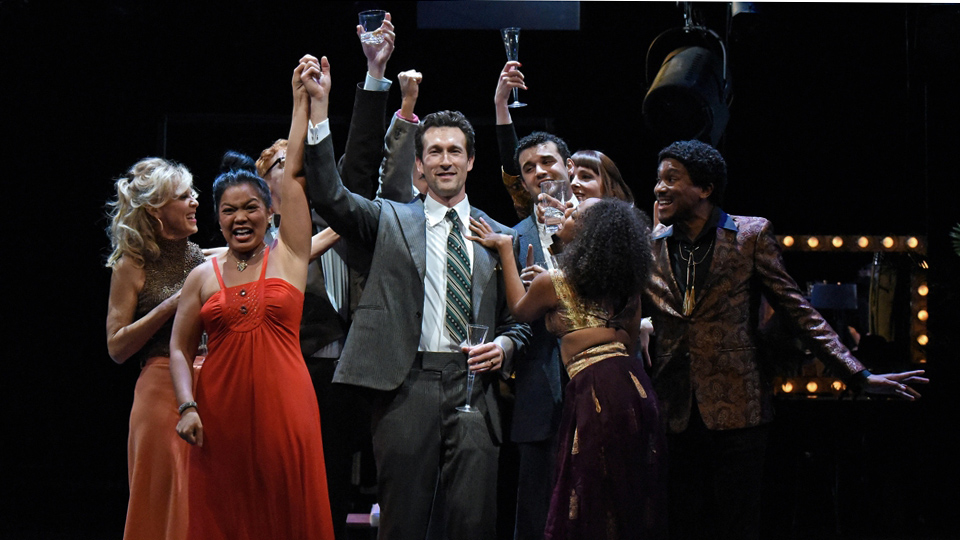 BEVERLY HILLS — George Furth wrote the book to the musical Merrily We Roll Along, based on the 1934 play of the same name by George S. Kaufman and Moss Hart. The music and lyrics are by Stephen Sondheim. It tells of one gifted songwriter, Franklin Shepard (Aaron Lazar), who started off collaborating for three years with his partner, lyricist Charley Kringas (Wayne Brady), on a socially conscious musical called "Take a Left," which for various reasons — timing, caution, opportunity, ambition — never got completed or produced. Shepard advanced from little theatre and way off-Broadway topical revues to hits on the Great White Way and then to producing Hollywood movies.
Scenes of the early lives of the three old friends, Franklin, Charley and the wannabe writer Mary Flynn (Donna Vivino), inevitably recall those talented young Bohemians trying to make it in the big city whom we met in previous works like La Bohème or in Bernstein's Broadway show Wonderful Town, which recently received a semi-staged production by the Los Angeles Opera.
The format of the musical, as with the original play, has it running backward in time, from 1976 back to 1957. We see at each stage of the main characters' development, just what wrong turn they took that betrayed their earlier idealism. "How did we get to be here?" gets repeated with each scene change. The show got poor press out of town. For one thing, audiences were confused by the backward format.
The troubled musical opened in November 1981 at the Alvin Theatre, directed by Harold Prince. Jim Walton, Lonny Price and Ann Morrison starred as the spirited triumvirate who eventually fall out of favor with each other. Jason Alexander also appeared memorably. It played for 52 previews and 16 performances before closing.
Many Sondheim fans believe that the critical horde was simply waiting to pounce on their hero after a string of successes — West Side Story (lyrics), Gypsy, A Funny Thing Happened on the Way to the Forum, Company, Follies, A Little Night Music, Sweeney Todd, and others — and take him down a notch. Clive Barnes, former lead theatre critic for the New York Times, wrote, "Whatever you may have heard about it — go and see it for yourselves. It is far too good a musical to be judged by those twin kangaroo courts of word of mouth and critical consensus."
I admit to feeling underwhelmed by the show myself at that time. I was reviewing for the New England Advocate chain of newspapers as a member of the New York Outer Critics Circle. I did suggest that if it had not carried the Sondheim name, and had been presented originally "in some obscure theatre downtown and eventually moved up to a full-scale Broadway production à la Chorus Line, the show might possess Cinderella mystique."
In 2016 Lonny Price released a documentary titled Best Worst Thing That Ever Could Have Happened, relating the "thrilling, wrenching experience" of the original production. Merrily has never been revived on Broadway, although never forgotten, it has enjoyed a better reputation in regional theatre. "Cinderella" has come home.
Will someday begin again?
Nevertheless the conceit rings hollow because in the first place we never even hear a single number from this misbegotten musical which might have given evidence of its promise. And second, we see little evidence from Franklin Shepard's character or behavior that he believes in the values that might have been lifted up in "Take a Left." Charley Kringas, ever hopeful to rekindle the artistic partnership, represents Shepard's "better angel," but alas, too late. Though perhaps this is the Sondheim-Furth point: Shepard never really stood for much of anything except money and success.
Is Merrily autobiographical? It probably comes closest to being so of all the Sondheim oeuvre. We have to remember that in his mid-20s (he was born in 1930) he was part of the West Side Story team with Leonard Bernstein and Jerome Robbins, who had more than a flirtation with the left. The Merrily cast recall their apprentice years in the anthem "Our Time":
Long ago
All we had was that funny feeling
Saying someday we'd send 'em reeling
Now it looks like we can
Someday just began.
These words echo West Side Story's famous "Somewhere," which is similarly a youthful plea for a better world — and peace, which was itself, at the height of the Cold War, a rather radical notion:
There's a place for us,
Somewhere a place for us.
Peace and quiet and open air
Wait for us
Somewhere.
There's a time for us,
Some day a time for us,
Time together with time to spare,
Time to learn, time to care,
Some day!
Another self-referential number in Merrily surely reflects Sondheim's own experience. The producer Joe Josephson (Amir Talai) has a riotous song in which he turns down a Shepard show, saying the tunes simply aren't hummable and the story needs more commercial appeal, a criticism Sondheim surely endured many times over, all while creating new modalities and possibilities for the Broadway idiom that have influenced every major composer since.
This production ends with the trio of friends up on the roof with binoculars watching for Sputnik to cross the skies. That 1957 event, which took place the same year that West Side Story bowed, is meant to announce the arrival of a new spirit in the world, and marked the moment of Sondheim's first big break. It was a time when the Civil Rights movement began transforming the face of America: The federally reinforced integration of schools in Little Rock, Ark., also occurred that year. The hopefulness of the 1960 Kennedy election, noted in the topical number "Bobby and Jackie and Jack," signaled the potential for a more democratic America. (The high school graduation song, "Hills of Tomorrow," that concluded the original production, is omitted here.)
There is surely a looming cloud over this soul-searching musical, which debuted, I think not coincidentally, in 1981, the first year of Ronald Reagan's "It's morning in America" presidency. We were not meant to recall lost dreams of the left turn never taken, but rather celebrate the get-rich mentality of those corrupt times. Of course the current production was planned long before the fateful presidential elections of 2016, yet it seems fitting that we should be reminded, through the culture that we embrace, of some higher purpose of living than the wholesale looting of our commonweal for private aggrandizement. Did "someday" just begin, or is it midnight in America? Somehow it seems telling that Shepard's new movie, at the peak of his career, is titled "Darkness at Dawn."
The production is all one could ask for: A wonderful cast that also includes, aside from those named above, big roles such as Shepard's first wife Beth Spencer (Whitney Bashor), and second wife Gussie Carnegie (Saycon Sengbloh). The racially blind casting is a most encouraging sign for the theatre in these times. And director Michael Arden's constant movement of people and props on stage is a marvel to behold. The 11-piece orchestra performs thrillingly under Adam Wachter. Among the most memorable songs from the show are "Good Thing Going," "Our Time," "Old Friends" and "Not a Day Goes By," many of them covered by name artists over the years. Southern California has much to be grateful for, having this production available to us for a little more time.
Ordinarily I would not comment on the curtain calls, but I do believe director Arden made a big mistake in dispatching everyone from the stage so quickly, with no individual bows, no upbeat orchestra accompanying our thankful applause for these stellar performances. Perhaps it was a question of paying overtime, but without this opportunity to express their favor, many in the audience will go home thinking, "Well, it was good, but it didn't really get a rousing response." Now admittedly, some curtain calls do go on too long; but the afterglow of a long standing ovation, which the production decidedly deserves, would have helped to restore the undeservedly sullied reputation of this noble statement about what went wrong in America.
Merrily We Roll Along plays at the Wallis Annenberg Center for the Performing Arts, 9390 N. Santa Monica Blvd., Beverly Hills 90210 through Dec. 18. Showtimes are Tues. through Sat. at 8 pm, also Sat. at 2 pm and Sun. at 2 and 7 pm. For tickets go the website here or call (310) 746.4000.