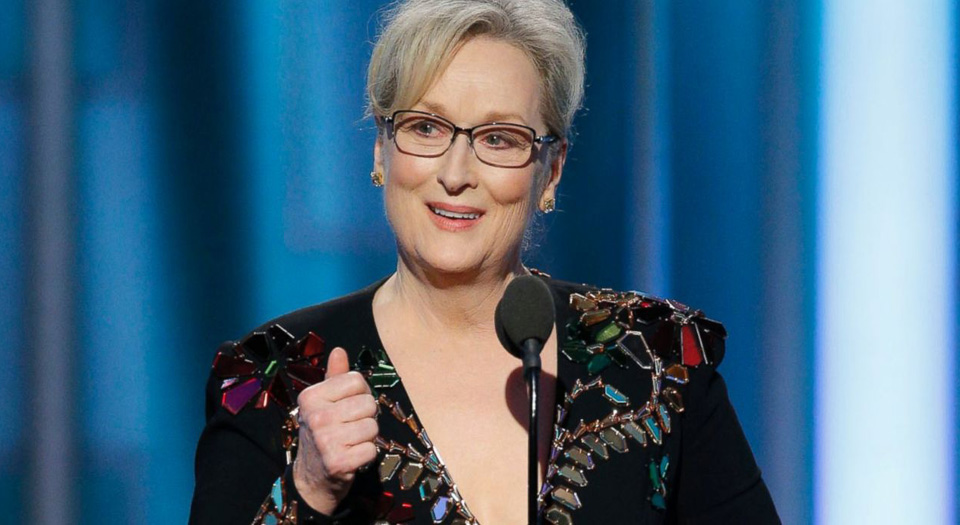 Meryl Streep woke the Hollywood community and watching, listening, reading audiences around the world with a blistering critique of the president-elect, and a fervent appeal to the press to keep him accountable and "safeguard the truth."
The occasion was the 74th Golden Globe Awards ceremony held Sunday night at the Beverly Hilton Hotel in Beverly Hills, Calif., where Streep received the Cecil B. DeMille Award for Lifetime Achievement. The Golden Globe awards are voted on annually by the Hollywood Foreign Press Association, and are often seen as a bellwether for the Oscar awards coming up later this month. This year's ceremony was hosted by Jimmy Fallon.
In her thoughtful acceptance speech, Streep pointed out that "Hollywood is crawling with outsiders and foreigners," citing the national and small-town origins of many of this year's award winners.
"Actors' only job is to enter the lives of people who are different from us and let you feel what that feels like." Streep has been nominated 19 times for Oscar awards, beginning with The Deer Hunter in 1979, and won three times — Best Actress for The Iron Lady (2012) and Sophie's Choice (1983), and Best Supporting Actress for Kramer vs. Kramer (1980). Clearly, this is an artist who knows her craft and accepts the actor's "responsibility of the act of empathy."
Streep felt moved to compare the actor's responsibility to the often replayed "performance" during the campaign when Donald J. Trump mocked disabled journalist Serge F. Kovalevski, who challenged his version of what happened on 9/11.
The "instinct to humiliate," said Streep, coming from someone in a position of power and seeking to become the president of the United States, "filters down into everybody's life because it kind of gives permission for other people to do the same thing. Disrespect invites disrespect. Violence incites violence." In bullying others, she said, "we all lose." (article continues after video)
Addressing her hosts, Streep affirmed that "we need the principled press" to stand up to lies, distortions and bigotry, and urged her listeners to "join the Committee to Protect Journalists." This was an unmistakable thrust at Trump and his supporters who hold up the untrustworthiness of the mainstream media and apparently prefer fake news to accurate reportage. The right-wing attack on the media recalls the Nazis' vilification of the "Lügenpresse," the "lying press."
The Trump Era promises to escalate the Culture War in an attempt to minimize and delegitimize artists who continue to stand for decent values of tolerance and understanding. Within a couple of hours, Trump tweeted out that Meryl Streep is "one of the most over-rated actresses in Hollywood" and a "Hillary flunky." Judging from the many photos of his lavish, gilt-encrusted homes available on the Internet, people will have to decide for themselves whether or not his esthetic expertise is what they will opt to follow.