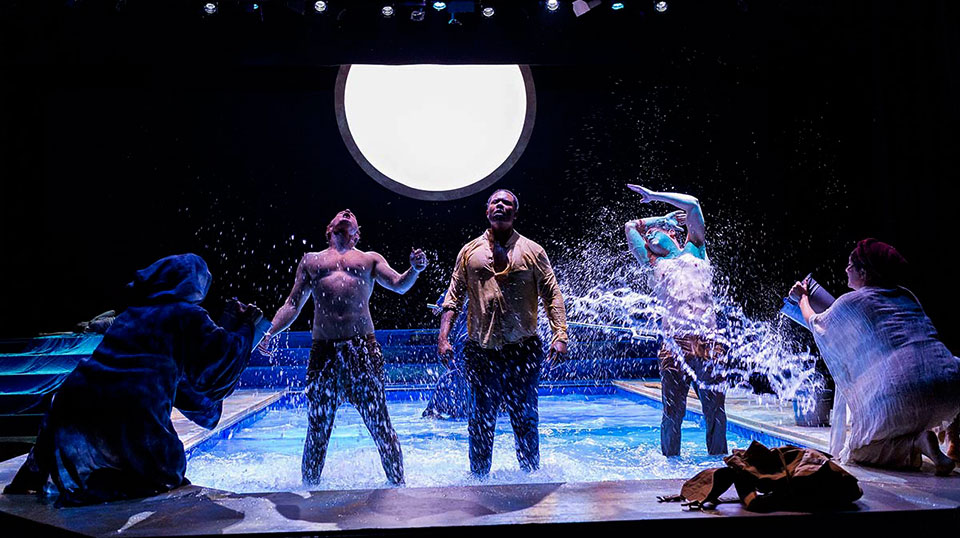 PASADENA, Calif. –– The "scientific socialist" Karl Marx wrote his 1841 doctoral dissertation at the University of Jena on ancient Greek philosophical views about nature. It has always been an entirely human project to want to understand the world. As a psychoanalyst notes, appearing onstage in a new production of Mary Zimmerman's play Metamorphoses in a segment devoted to Apollo, god of the rising and setting sun, and his son Phaeton, "Myths are the earliest forms of science," how to explain the otherwise inexplicable.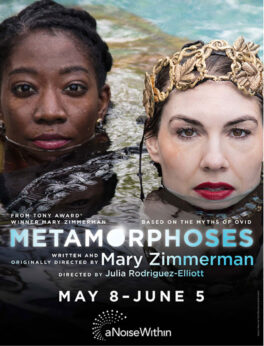 The author adapted her version of the myths from the David R. Slavitt 1994 free-verse translation of The Metamorphoses of Ovid. These tales of Midas, Orpheus and Eurydice, Apollo, Aphrodite, Ceres, as well as many less familiar characters, swarm with every human emotion and literary device. In one seamless, intermissionless production we find ample moments of comedy, eternal love, ravishing poetry, odes to the power of nature, and overall a whimsical view of life that's often arbitrary, but ever challenging, ever changing.
Like the classical principle of dialectics, so many of the ancient myths indeed feature the idea of change and transformation as their theme. Lamentation turned into song and art, the "Midas touch" turning everything into gold, unrequited love turned into a blossoming tree or a constellation, and many other examples. Capricious gods mix up the lives and loves of mortals, and mere earthlings challenge the gods on their own turf—and surf. "Nothing lasts," it's stated early on, "but the slow parade to the Underworld"—and even then, one must admit, the worms will have something to feed upon.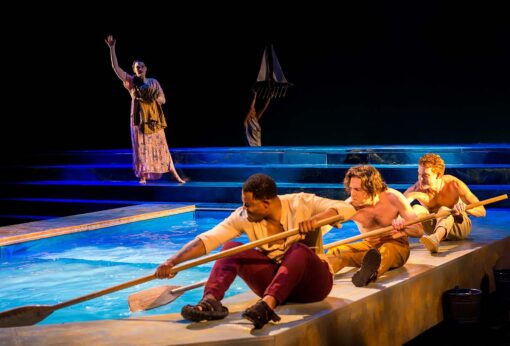 Thus the setting of the entire action in this play about transformation is in, under, on, above, and alongside the roiling, pouring, drenching, drowning waters of a 580-gallon swimming pool 14 inches deep mounted on the boards where in normal times actors strut and romp. It's everyone in the pool! From moment to moment, from scene to scene, the pool is a washbasin, the River Styx, the perilous open sea. Front row theatergoers are forewarned of errant splashing. The pool is heated, by the way, and condensation can be seen constantly rising from the surface. No need for an extra sweater or shawl in the theater—it's pretty steamy!
Is myth even so far from our consciousness today? We don't even have to look to Trump's lies that are accepted and promoted by millions of Americans as fact. How about U.S. democracy? We're woke now more than ever to the fatal ingrained aristocratic prejudices in our founding documents—the Electoral College, the composition of the Senate, the republican form of governance and the devolution to the individual states of essential rights such as voting, and soon reproductive choice, marriage rights, the near impossibility of amending the Constitution, the filibuster, the way judges and Supreme Court justices are appointed, the rights of Nature, rights to equal representation by minority populations, the wars we fight for "freedom." One could go on and on about the hundreds of ways the myth of "justice and liberty for all" still prevails, unexamined and unproven, in the U.S. mind. "A myth is a public dream," someone says in Metamorphoses.
"I like great sweeps of time and place, and I like obsessive love and unrequited love," says Zimmerman in an interview. "The water is sexy and sensual and beautiful. It stands in for very literal things—they row in it—but it's also metaphorical. And sometimes it's just very, very funny."
Metamorphoses premiered in 1998 at Chicago's Lookingglass Theatre, the same year Zimmerman received the MacArthur Fellowship (the "Genius" grant). It then went on to a Broadway production in 2002 that garnered a Tony Award for Zimmerman as director, at the same time earning Drama Desk, Drama League, and Lucille Lortel awards for Best Play. The current production of this rarely revived work at A Noise Within is superbly directed by Julia Rodriguez-Elliott.
A "Character Map" in the printed program is helpful, though at first sight rather daunting. It would appear to tackle not six myths, as announced, but nine. You take your seat and wonder, How am I ever going to keep all these characters straight, with only a few names faintly recalled from that course I took centuries ago in junior high? The myths include Midas; Alcyone and Ceyx; Erysichthon; Orpheus and Eurydice; Vertumnus and Pomona; Myrrha; Phaeton; Eros and Psyche; Baucis and Philemon. In the end, I found, some of these do kind of melt together and the more unfamiliar names are difficult to retain.
But getting it all memorized is not the point. The myths reveal much that is utterly human, for better or worse, not only for the people of millennia past but of today. The first story, for example, is that of Midas. He hears there's a far-off land, a paradise where people live forever. His first instinct is to want to invest there, like any sharp hedge fund operator. In the story of Erysichthon, he is warned not to cut down a tree that is sacred to Ceres, the goddess of grain and agriculture (we get the word "cereal" from her), but he does so anyway, for its timber. He is cursed with insatiable hunger, which torments him for the rest of his days. He eventually resorts to cutting off parts of his own body to satisfy his hunger. Can we not see this as a metaphor for the avarice that is destroying our planet? A story essentially about the Amazon rainforest being ravaged—for hamburgers!
A cast of nine resident artists takes on over 85 roles. They include Sydney A. Mason, Cassandra Marie Murphy, Erika Soto, Trisha Miller, Nicole Javier, Rafael Goldstein, Kasey Mahaffy, DeJuan Christopher, and Geoff Elliott. The creative team includes scenic designer François-Pierre Couture; lighting designer Ken Booth; composer and sound designer Robert Oriol; costume designer Garry Lennon; properties designer Shen Heckel; fight choreographer Kenneth R. Merckx, Jr.; and dramaturg Miranda Johnson-Haddad. The production stage manager is Amy Rowell.
This is rich, ancient material, the soil and humus we still cultivate. Particles of the water in that swimming pool flowed in Homer's "wine-dark sea," and when the run of the show is over they will turn up in the next plastic bottle of distilled water you purchase. The magic of theater brings us these truths that can be enlightening, frightening, comforting, and sobering, all at once.
Metamorphoses runs through June 5, with performances Thurs. at 7:30, Fri. and Sat. at 8 p.m., Sat. and Sun. at 2 p.m. Post-performance conversations with the artists take place on May 20, 22, 27, and June 3 (included in the ticket price). In addition, there will be student matinees at 10:30 a.m. on May 24 and 25. Interested educators should email education@anoisewithin.org.
A Noise Within is located at 3352 E. Foothill Blvd., Pasadena 91107. Tickets are available by calling (626) 353-3100, or you may visit the company website. The trailer for the show can be viewed here. A preview can be seen here.