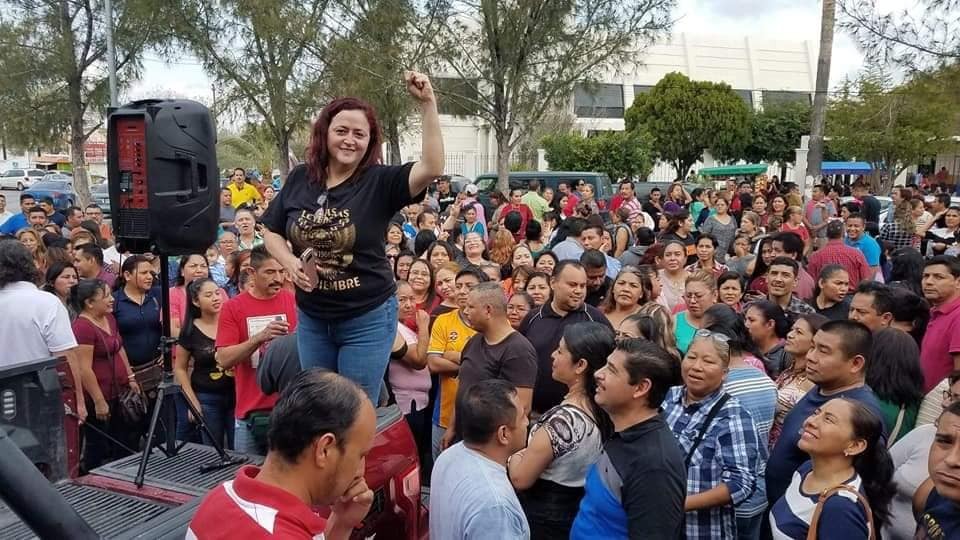 WASHINGTON—The arrest and detention in Mexico of prominent and outspoken pro-worker labor lawyer Susana Prieto Terrazas is raising questions about whether Mexico can implement its commitments under the new "free trade" pact with the U.S. and Canada, which took effect July 1.
Susana Prieto Terrazas was arrested in May on charges of inciting a riot after she led protests in the Mexican border state of Tamaulipas for better pay in maquiladoras, factories erected by U.S.-based firms to make products, from cars to cookies, for export northwards.
The local prosecutor has held her in jail even as Mexico's Labor Minister, Luisa Alcalde, named by pro-worker President Andrés Manuel López Obrador, demands she be let go.
The U.S.-Mexico-Canada Agreement (USMCA), which replaced NAFTA, had tough labor rights guarantees Mexico is supposed to implement written into its text and into the USMCA approval law Congress passed. López Obrador will visit Washington on July 8 to discuss the USMCA with President Donald Trump, who jammed it down Mexico's throat.
The USMCA guarantees include a new pro-worker labor law, a new and tougher enforcement system, replacement of company unions with independent unions, higher wages, guarantees of minimum U.S. "domestic content" on North American-made cars, and abolition of some 700,000 "yellow dog" Mexican labor contracts, which were crafted to exploit workers.
Those conditions are also supposed to apply to the maquiladoras, which led Prieto Terrazas to Tamaulipas to lead the protests for better pay and cancellation of those pacts. She also showed up in a hazmat suit, urging workers to demand a shutdown of a particular plant due to the coronavirus pandemic, with full pay for the workers.
But at the behest of the plant owners, the Tamaulipas prosecutor sent police to arrest her. The arrest was peaceful, but she filmed it and the video has gone viral, sparking outrage and questions.
Prieto Terrazas's arrest "implies a major challenge, since there could be matters where the reform still isn't implemented, and yet, there are complaints over rights violations, above all about union freedoms and collective bargaining," Alcalde told Reuters.
Rep. Marcy Kaptur, D-Ohio, a leading congressional voice on trade and one of the few lawmakers who's been there long enough to vote against both NAFTA 28 years ago and the USMCA last year, agreed. She called the USMCA "a minor rewrite" of NAFTA.
"NAFTA sold communities like ours down the river," Kaptur said. The "USMCA was sold on the same exaggerated promises, (so) I have little faith USMCA will not continue down the same failed path of lost American jobs."
With strong enforcement being the key to the USMCA, Kaptur added, "We witnessed a rough start as Mexican labor activists were jailed under false pretenses, raising concerns as to how seriously the Mexican government will enforce newly mandated worker protections."
AFL-CIO President Richard Trumka, who says corporate interests are doing all they can, including filing 92 lawsuits in Mexico, to stop implementation of the USMCA's pro-worker safeguards, protested Prieto Terrazas's arrest when Mexican police grabbed her on May 10.
"Susana Prieto's tireless advocacy on behalf of workers in Mexico's maquiladoras made her a thorn in the side of powerful companies and corrupt officials. Her arrest on trumped-up charges of 'inciting riots' is an outrage. The AFL-CIO calls for her immediate and unconditional release. As we approach entry into enforcement of the United States-Mexico-Canada Agreement, Mexico must live up to its commitments to respect fundamental workers' rights," he said then.
The Rethink Trade coalition, which now includes Public Citizen's Trade Watch, is circulating an online petition for signatures demanding U.S. lawmakers put pressure on Mexico to free Prieto Terrazas. It's at www.rethinktrade.org and promoted on social media with the hashtag #FreeSusana.
Prieto Terrazas "has been arrested on trumped up charges for helping organize independent unions," said coalition spokesman Ryan Harvey in seeking signatures.
After recounting the same history Kaptur did, he added, "We fought and won changes" in the USMCA "to improve working conditions in Mexico and guarantee workers the right to organize and affiliate with independent unions. We need your help to make sure these promises become realities. The first step is the immediate release of Susana Prieto Terrazas."