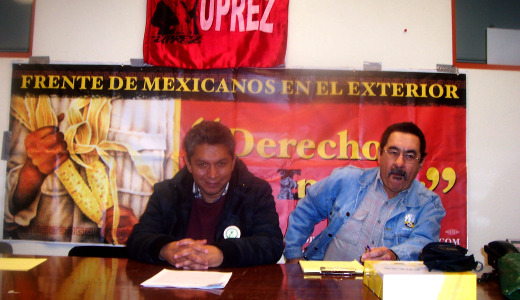 SACRAMENTO, Calif. – Humberto Montes de Oca, interior secretary of the Mexican Electricians' Union (Sindicato Mexicano de Electristras – SME), was on his way to Washington, he told a meeting here recently. His mission: to lodge a complaint with NAFTA authorities against the Mexican government for labor violations.
He said he would also be asking the AFL-CIO for solidarity actions and monetary support. Several central labor councils and the Service Employees International Union (SEIU) have already agreed to help the Mexican union.
Montes de Oca spoke here to an audience of mainly Latino union and community activists, at a meeting sponsored by the Sacramento chapter of the Labor Council for Latin American Advancement (LCLAA) on January 24.
Standing in front of a banner reading "Derecho de no emigrar" ("Right not to emigrate") and speaking in Spanish with a translator, Montes de Oca said that Mexico's President Felipe Calderon is trying to exterminate the SME union, privatize the electrical industry, and control the media.
He described how Mexico's federal police and army had attacked the union-built and nationally owned electrical facility and violently removed union workers on October 10, 2009.
Subsequently 44,000 workers were fired and replaced with non-union employees, although Calderon does not have the constitutional authority either to extinguish a public entity or to fire state workers.
At the same time, taxes were raised, subsidies for small electrical consumers withdrawn, the minimum wage decreased and prices for basic needs increased 30 percent.
SME filed a lawsuit over the illegal attack and decree, but a Mexican court rejected it..
Meanwhile, 18,000 workers continue to resist the decree, although they have not been paid in 100 days. The government took over the assets of the SME, which is now in financial crisis and cannot pay its bills or its staff.
SME, Montes de Oca said, was formed in 1914, and is the only union in Mexico which is not tied to any political party or government and in which leaders are elected by secret ballot.
Photo: PW/Gail Ryall