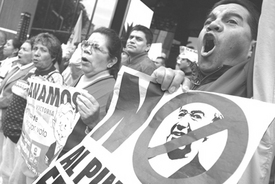 MEXICO CITY — While evidence of election irregularities and fraud mounts, it is hard to find news of this in Mexico's mass media, especially television. On the contrary, the media here, with few exceptions, is downplaying or ignoring evidence of electoral wrongdoing and is trying to persuade the population that the July 2 elections were fair.
The leftist Coalition for the Good of All has found widespread irregularities, including many polling-place-based vote tallies ("acts") that did not match the numbers that the Electoral Institute (IFE) has, and instances where coalition presidential candidate Andres Manuel Lopez Obrador's votes were not counted while National Action Party (PAN) candidate Felipe Calderon's votes were inflated.
On July 24, the coalition presented more evidence to the Federal Electoral Tribunal that 40,000 more "acts" had glaring defects. On July 16, Lopez Obrador said that 1.5 million more votes were counted than people who voted. The coalition is asking the federal tribunal to order a vote recount. PAN is also challenging election results in some electoral districts, but only supports a vote recount in some polls.
Scientists from the Autonomous University of Mexico suggest that Calderon won the elections through computer fraud. Election observers from U.S.-based Global Exchange and Mexican-based Civic Alliance also found widespread irregularities during the elections and are calling on authorities to recount the vote. Only the European Union's observer group has judged the elections to be fair.
Last week, a source in Mexico's military intelligence services told the World that there was a plot by big business, the media, PAN and the Party of the Institutional Revolution (PRI) to ensure through fraud that Lopez Obrador did not win the elections. He said that PAN and PRI stuffed ballot boxes, manipulated vote counts and bribed coalition representatives at some polls to turn the other way while election fraud was committed. IFE then used software provided by Calderon's brother-in-law to produce a false win for Calderon.
Even some PAN supporters who voted for Calderon such as Robert Bustamante, 56, believe that PAN stole the elections through fraud. Bustamante, who witnessed irregularities at the polling station where he voted, said that Mexico's ruling parties, PRI and PAN, have always retained power through fraud. However, Mexico's two principal television networks, TV Azteca and Televisa, are refusing to investigate election fraud and are trying to convince people that Calderon is the rightful winner.
Most of the news commentators are hostile and dismissive of anything Lopez Obrador says. Julio Hernandez Lopez, a columnist for the daily newspaper La Jornada, writes, "The mass media without modesty has closed ranks to try and impose Felipe Calderon by way of perception." PAN, IFE and the employers' confederation, the Coordinating Business Council (CCE), are also running frequent television advertisements to convince people that the elections were fair.
The media is taking advantage of every opportunity to portray Lopez Obrador and his left coalition in a negative light. On July 19, seven demonstrators — with TV cameras present — confronted Calderon as he was leaving Mexico City's press club in his car. While yelling slogans condemning election fraud, three young males among them struck Calderon's car with their fists. One of the demonstrators gave him the finger. The news media seized on this as being proof that Lopez Obrador was intent on organizing violent demonstrations and assaults against Calderon and his family. It was also "evidence" that the Coalition for the Good of All — which denied organizing the demonstration — did not respect law and order.
As part of nonviolent civil disobedience campaigns to force authorities to recount the vote, Lopez Obrador's supporters are organizing boycotts of the two main television networks, asking people to cancel subscriptions to TV Azteca and Televisa.
In the past week, hundreds of members and supporters of the leftist coalition peacefully occupied the Mexico City offices of pro-Calderon corporations like Aviation Mexico, paralyzing operations for the day. More actions are planned to pressure authorities to recount the vote, including another demonstration here on July 30, which organizers hope will exceed the 1.5 million who attended the July 16 demonstration.
tpelzer@shaw.ca