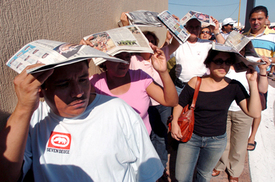 MEXICO CITY — No clear winner emerged after Mexicans went to the polls on July 2 to elect their president.
As the World went to press, the Federal Electoral Institute (IFE) had still not declared a winner, although it said it had counted 98.45 percent of vote and Felipe Hinojosa Calderon of the right-wing National Action Party (PAN) was leading with 36.38 percent of the total votes cast. His nearest rival, Andres Manuel Lopez Obrador of the leftist coalition For the Good of All, had reportedly received 35.34 percent of the total.
Calderon declared that he won the elections and is now president of Mexico. However, Lopez Obrador says that he won the elections by more than 3.5 million votes and that the vote count was manipulated. Lopez Obrador called for a recount. The coalition asked voters to report and take pictures of the voting results posted outside each of the 130,496 voting centers across Mexico and send them to its headquarters.
To avoid fraud, each voting center counts all its ballots in the presence of representatives of all the competing parties. The results are then sent to IFE and posted outside each voting center. The coalition then tabulated the results it had and then checked them with IFE's figures, finding widespread irregularities.
For example, the coalition found that in the states of Guanujuato and Jalisco, 45 percent of the voting centers had reported vote counts that differed from the numbers that IFE had reported. It also discovered that IFE had double- and triple-counted PAN votes from some voting centers.
In voting center 1019 in District 3 in the state of Mexico, a photograph of the voting results showed that the Lopez Obrador's coalition obtained 188 votes. The IFE, however, had reported Lopez Obrador receiving only 88. "They (IFE) removed 100 votes, and like this there are other examples where they registered bad numbers that affected us," Lopez Obrador said.
There were also abnormalities in the way that IFE counted the votes. For instance, according to IFE, 42 million Mexican voted, but IFE's own vote tally only counted 39 million votes.
Lopez Obrador also wants to know how Calderon could win the elections, given that the former won in 16 of 31 Mexican states, as well as in Mexico City.