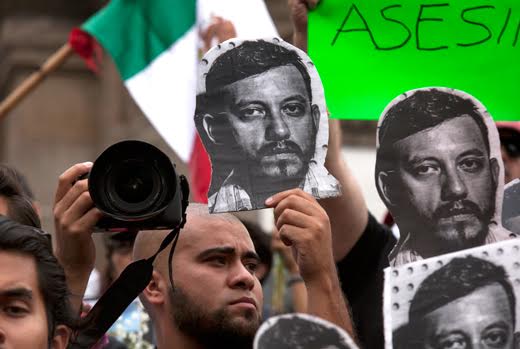 (Morning Star) – Media unions condemned the murder of Mexican photojournalist Ruben Espinosa Becerril, after Mexico City's mayor vowed there would be no impunity for his killers.
Mr. Espinosa, 31, who worked for the investigative magazine Proceso and other media, was killed along with four women, believed to be his three flat mates and a housekeeper, at his apartment in the capital on Friday.
He had moved to the supposed safe haven of Mexico City in June after being harassed and followed in Xalapa in Veracruz state – notorious for killings of journalists – for his work covering protests.
Mexico City mayor Miguel Angel Mancera said at a news conference on Monday: "We are all outraged by this crime. There will be no impunity in this matter. No line of investigation will be discarded."
The United Nations high commission on human rights condemned the killings, saying that the bodies had signs of torture and sexual violence and that the climate of impunity "is one of the obstacles to practicing freedom of expression in Mexico."
Mexico City chief prosecutor Rodolfo Rios's office said late on Monday that investigators had found an automobile linked to one of the victims abandoned in a neighborhood to the south.
The statement also said the building's security camera was damaged and did not contain video of the scene.
Mr. Rios sparked protests by journalists on Sunday when he refused to say whether Mr. Espinosa's harassment in Veracruz was part of the investigation.
The International Federation of Journalists (IFJ) joined its Latin American group FEPALC yesterday in condemning the murders.
Sindicato Nacional de Redactores de la Prensa (National Union of Press Editors) general secretary Leonardo Olivas Ortiz said: "Journalism in Mexico is subject to harassment and the authorities apparently cannot find the missing link to solve these criminal attacks against journalists."
The IFJ said that it was particularly worrying that this was the first time a journalist fleeing persecution in other states had been murdered in the capital.
Until now Mexico City had been considered a refuge for journalists forced to flee violence and threats in the rest of the country.
IFJ president Jim Boumelha said: "This is an outrageous act which marks a new level of violence that cannot go unpunished."
Reposted from Morning Star
Photo: Journalists protest the murder of photojournalist Ruben Espinosa Becerril as they hold printouts of his photo, in Mexico City, Aug. 2. | Marco Ugarte/AP