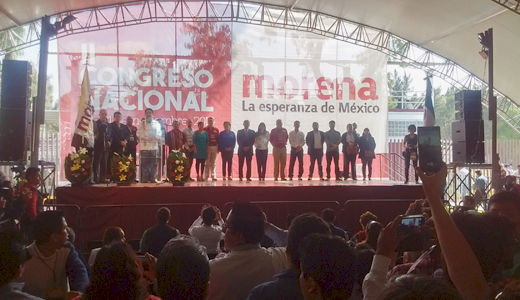 MEXICO CITY — The Mexican political party Movimiento Regeneración Nacional, or "Morena" concluded its second congress by reaffirming their goal: a peaceful democratic transformation of Mexico through the electoral process and victory in the Presidential and Congressional elections in 2018
Morena, in a short time and with very little money, has become a viable political and social force in Mexico. They declared that their party is leaving a three year period of growth and entering into three years of challenges leading up to the 2018 presidential elections.
In their first election cycle as a party, they won a majority of the local races in the capital of Mexico City; a total of 18 of the 40 seats in the Legislative Assembly, as well as 8.37 percent of the national vote.
Morena aims to become a people's movement, not just a political party. It aims to transform the nation's priorities to meet the needs of its people and to put an end to corruption and special privileges. The party's structure and Congress were meant to embody those goals.
Over 1,900 Morena delegates gathered at its second congress with an equal number of men and women in attendance. A total change in leadership took place, as is supposed to happen every three years. No one can be reelected to the same post they had previously held in the party. They elected Andres Manuel (or AMLO, as he is referred to endearingly) unanimously to the office of party president.
The night before the opening of the second congress, delegates from outside of Mexico met to get to know one another and to vote four members onto the National Council who will represent Mexicans living outside of Mexico.
"Those that have left Mexico are some of the hardest working people of Mexico, they are the brave souls that make this country great. We must help them to see that it was not the people of Mexico that sent them away but the corrupt government, and that they too can stand up to vote them out," Tere Guadalupe Reyes, secretary of the party's commission on women told the 90-plus delegates representing Mexican ex-patriots. Mexicans living outside of Mexico will be able to vote in the next presidential election in 2018.
An evaluation of the first years of Morena's existence was presented by its outgoing general secretary, Berta Elena Lujan Uranga. She pointed out that Morena has succeeded in establishing principles for its members to strive for. "A total of 1,500 Morena committees have been established including 90 outside of Mexico with a total of 1 million members who are active in the struggles of workers throughout Mexico," she reported.
Impressive gains in one year of Morena's existence "were the result of all the work of Morena and indicates the people's disgust with those running the country," said Lujan.
The newsletter "Regeneración" and social media have been a tremendous help in spreading the word about Morena and its principles throughout Mexico, especially because the mainstream media is owned and operated by those in power. The congress vowed to double their efforts and use these tools to speak to thousands by going door to door.
Morena sees the outright buying of votes as one of its main challenges in the upcoming 2018 presidential elections. People have become accustomed to selling their vote as an opportunity to put food on their table. In 2006 and 2012, the left suffered defeats in the presidential elections that they attribute largely to something they call "the dirty wars:" voter manipulation by media, voter fraud, and the buying of the vote.
In a stark manifestation of dirty warfare, an attempt is being made to block access to media spots that Morena is entitled to as a political party. "This shows they are afraid of us," AMLO told the congress on Sunday as he made proposals for the political line for the next 3 years.
AMLO called for an extraordinary conference to be held in one year with the objective to evaluate the organizational plan, make revisions to the constitution and approve the final push for 2018.
"I believe that the best way to combat the effectiveness of buying of votes is to hit the streets and go door to door informing and educating the people," AMLO told the delegates.
"We are concerned with well being of the people, not positions, or money. Our mission or work is to struggle to change this oppressive government and establish, as Madero would say, an authentic democracy to be able to live in a just and equal society," AMLO emphasized.
He continued, "Being of the left, I repeat, is to have good intentions and be honest. Those that are not moved by the suffering of others and or who do nothing to help them, are not of the left, neither is one that is corrupted or deceitful."
The Centro de Investigación y Seguridad Nacional (CISEN), a civil intelligence structure that serves the Mexican State, on Nov. 25 reported that, based on its poll Morena, is 15 points ahead of any other political party.
Photo: Rossana Cambron | PW