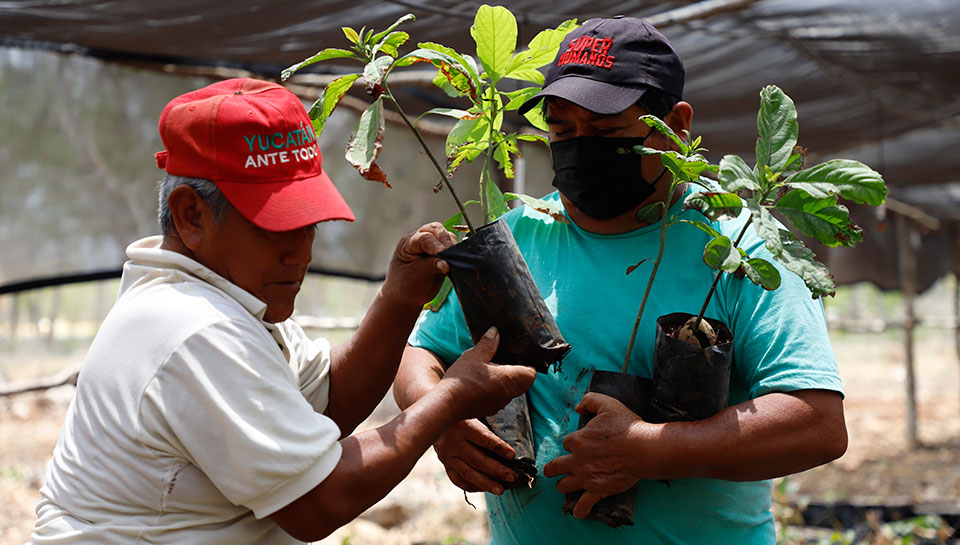 The Biden administration invited 40 world leaders to a virtual Leaders Summit on Climate Change April 22-23, 2021. The goal was to keep the rise in global temperature to a less than a 1.5 degree centigrade increase from where it was in the pre-industrial era. Biden committed the U.S. to reduce its emissions to 50% of 2005 levels by the year 2030.
Attendees included President Xi Jinping of China, India's Narendra Modi, Vladimir Putin of Russia, German Chancellor Angela Merkel, Emmanuel Macron of France, Andrés Manuel López of Mexico, Matamela Cyril Ramaphosa of South Africa, Nguyễn Phú Trọng of Vietnam, Pope Francis, U.N. Secretary-General António Guterres, and dozens of others.
Mexico stood out among all of these because of the uniqueness of its proposal, however, a plan that would simultaneously fix both the environment and the migration and immigration crises faced by his country and the United States.
López Obrador, or AMLO as he is known, proposed a number of initiatives that would mitigate the harmful effects of climate change and, while doing so, set up a more humane immigration policy.
First, Mexico plans to stop exporting oil and importing gasoline. He wants the country to only refine sufficient oil to meet Mexico's internal demands. Second, AMLO proposes to keep more oil in the ground. Mexico will reduce its reliance on fuel oil and coal for electrical utilities. It would generate more of its electrical power through clean energy and upgrading hydropower from existing dams, with new, more efficient, electrical generator turbines. Third, and perhaps most unique of all of its proposals, Mexico plans to continue to plant millions of trees (called Sembrando Vida – Growing Life) to reduce carbon dioxide. So far, 700 million trees have been planted, and the goal is to reach 1 billion trees on 1 million hectares (2.4 million acres). Mexico's tree planting currently provides jobs for more than 400,000 Mexican farmers at a cost of $1.4 billion per year, an investment that lets people stay in their homeland.
AMLO has made it clear that workers should leave their native land only out of necessity. Climate change has caused droughts, driving many campesinos (small agricultural producers) off the land. Hurricanes, chronic poverty, and rising levels of crime have driven other Central American families to leave their countries. In addition, Central America is also heavily affected by the economic impact of the pandemic.
Many workers and their families from the region (particularly from Honduras, Guatemala, and El Salvador) are arriving in the U.S. Also coming are unaccompanied children. The number of apprehensions of people traveling in families increased 168% recently (Pew Research Center), but particularly painful is the increase in detentions of unaccompanied children, placed in what are essentially "baby jails" and sleeping on gym mats with aluminum foil sheets.
This migration policy cannot be called humane in any sense of the word. Biden has promised to "reform our long-broken and chaotic immigration system." Vice President Kamala Harris stated during the opening of the summit on Climate Change that "jobs can be created and climate change attacked simultaneously."
Mexico has proposed a way to keep workers and their families in their home country by creating green jobs. AMLO proposes an expanded tree-planting jobs program similar to the one Mexico already has underway. He pitched an idea to the Biden administration for all Central American nations to create more than a million new jobs. Biden pledged to invest $4 billion dollars in such a program, funded through some combination of public and private investment. The goal would be 3,000,000 trees on 4 million hectares (about 10 million acres), with a capacity to remove 70 million tons of carbon dioxide from the atmosphere annually.
Mexico often reminds the U.S. that its economic might was mainly created by immigrants. The U.S. GDP growth plans, which will require many additional migrant workers, are proof of that. The only way to grow the GDP is to increase worker participation in the economy or labor productivity (automation), and the U.S. has a current population growth rate of only 0.58% annually. Raising the minimum wage and creating new green jobs will reduce unemployment and help increase the GDP, but alone they won't be enough. Immigrant workers will be needed.
Mexico proposes that the U.S. incentivize small producers in Central America to continuously plant trees for three years, after which time they could then apply for temporary work visas from the U.S. After an additional three years, the workers would have the opportunity to apply for permanent U.S. residence or dual citizenship in the U.S. This would be a more humane and just migration policy for the U.S., providing a humane policy that simultaneously incorporates measures to improve the environment.
These proposals are consistent with a prior Mexican proposal for a World Climate Change Fund, which would be used for reforestation and afforestation, and other green methods to combat climate change.
Taken together, the proposals make Mexico a country to look to when it comes to innovative approaches to fix inhuman migration and the climate crisis.