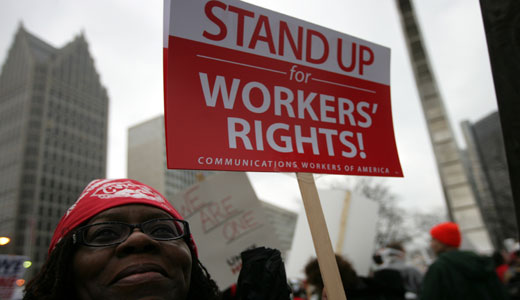 DETROIT — A coalition of Michigan unions, led by the Teamsters and American Federation of State, County and Municipal Employees, has launched a giant petition drive to put a referendum on this fall's ballot inserting the right to collective bargaining into the Wolverine State's constitution.
The drive, by www.protectourjobs.org, must gather at least 322,609 valid signatures by July 1. If it succeeds, the proposed constitutional amendment would go before the voters this fall.
The petition drive started Mar. 6, just before the GOP-dominated state legislature passed – and right-wing Gov. Rick Snyder signed – a so-called "paycheck protection" law. That bill bars automatic deductions from state and local workers' paychecks, even if the workers authorize them, for political action.
The business-GOP cabal that is waging the nationwide war on workers sees such "paycheck deception" laws as ways to cripple workers and unions, by depriving them of funds to use for political campaigns and for lobbying for pro-worker legislation and against the corporate agenda.
"Working families who built Michigan's middle class now want to rebuild it," Teamsters President James Hoffa said in a column on the international union's website, touting the constitutional amendment petition. "The amendment would guarantee the right to form, join, or help labor organizations and to bargain collectively with a public or private employer.
"I'm sure we'll succeed, because so many Michiganians are falling out of the middle class," Detroit native Hoffa added. "Working people in our state will sign the petition because they so desperately need to protect their wages, their benefits, and their voice in the workplace.
"They'll sign because they've seen CEOs arbitrarily move plants to Mexico or China when their workers don't have the protection of a union contract. They'll sign because they know workers who don't belong to a union have absolutely no say when the CEO slashes wages or benefits. And they'll sign because CEOs can unilaterally fire non-union American workers just to make the quarterly earnings statement look better."
He also predicted non-unionists would sign because they know that "without constitutional protection for collective bargaining, workers are at the mercy of politicians who owe their election to CEOs and Wall Street billionaires." Michigan has 671,000 union members, or 17.5 percent of its workforce, according to latest federal data.
Besides the Teamsters and AFSCME, other unions jumped into the petition drive. They include the Metro Detroit AFL-CIO, the state AFL-CIO, the Michigan Nurses Association, the Lecturers' Employee Organization, the Michigan Federation of Teachers, the United Auto Workers in the state, the Michigan State Utility Workers Council, the National Education Association, and the Michigan Education Association. The state's Democratic Party is also part of the coalition.
Metro Detroit AFL-CIO Secretary-Treasurer Shawndrica Simmons says the proposed constitutional amendment would halt another right-wing scheme, to pass a so-called "right to work" law, in its tracks. Right to work laws, like the "paycheck deception" legislation, deprive unions of funds they need to represent workers – by making dues or similar payments optional and voluntary – while leaving unions saddled with the representation duties.
The amendment reads, in part, that "no law shall abridge, impair, or limit the right to collectively bargain for wages, hours and other terms and conditions of employment."
"After almost two years of continuous Republican-led policy attacks, Michigan unions are fighting back with a sweeping proposal that would enshrine collective bargaining rights in the state constitution and put them beyond the reach of state lawmakers," Simmons added. If it's on the November ballot, she noted, it does not have to pass the legislature.
Not only would the constitutional amendment, if approved, prevent mounting of a right-to-work campaign, but it "would undo most if not all of what the state's lawless lawmakers have done in the past 14 months related to unions and bargaining powers," she said.
AFSCME lists more than 80 anti-worker measures pending or passed in the Michigan legislature. They include a law stripping collective bargaining rights from teachers, and a bill saying Michigan's Occupational Safety and Health Administration could not issue workplace safety standards tougher than existing federal rules.
"Extremist politicians in Lansing passed one anti-worker bill after another," added Hoffa. "They cut wages, health care benefits, retirement security, and safety protections. They moved bills to weaken teacher unions and to eliminate the rights of teaching assistants to organize.
"Meanwhile, our elected representatives cut $1.8 billion in taxes to multinationals least in need of tax relief: Banks, insurers, and oil companies. These corporate giveaways and political attacks on unions do nothing to create good jobs that support a family. What they do is enrich the one percent and make it easier to replace our once-strong middle class with non-union, low-wage workers." He warned, "The same CEOs and billionaires will pay for fierce and clever opposition to a constitutional amendment."
Photo: William Archie/AP