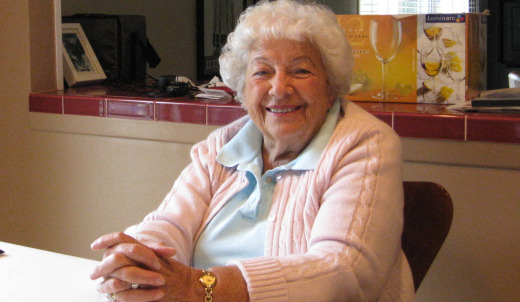 DETROIT – Earlier this year, I happened to be reading "South of the South" (Raymond A. Mohl, University Press of Florida, 2004), a riveting true story of two Jewish women civil rights activists fighting segregation, anti-Semitism, Klan terror and anti-Communist hysteria in post-World-War-II Miami. Imagine my surprise, as I was midway through the book, when one of these women, a person I had never met before, showed up at a People's World event in Michigan.
It was Bobbi Graff.
In August 1954, four days after giving birth and while still recovering in her hospital bed from that joyous occasion, Graff was handed a subpoena to appear before a grand jury investigating Communist activity in Miami. "It was though the world had gone mad," she said later.
Today few people know that, before the civil rights movement burst onto the national scene, Graff and people like her were leading struggles organized by the Communist- and left-led Civil Rights Congress against lynching and police brutality and for desegregation of lunch counters and other public accommodations. A thesis Graff wrote while studying at Wayne State University in Detroit brings to light this history and is included in the book.
Today Graff still lives in Florida, but escapes the summer heat for an extended stay here, visiting family and friends. She took time to talk with me and reflect on those long-ago days and the present.
Take the tea-baggers who tried to stop discussion at town hall meetings this year.
"Any one who has lived in the South during the period I have can immediately see what is happening," Graff said.
Her experiences in Florida from 1946 to 1954 when Klan terror and McCarthyism were rampant were "horrendous although you don't think of it at the time, you just do what is right," she said. "It is scary as all hell when you start getting the KKK at your door. For years I'd close my eyes and see the Klan walking at us, and it was the most frightening thing in the world. The police department – you couldn't tell the difference, they [the police and the Klan] were in one uniform or the other."
"What's going on today?" Graff asked. "To me, these tea-baggers are the same kind of people. They don't care about people. They don't care what they do to people because they don't see them as people. Their attitude is, if you don't agree with me, than you don't matter. I think of people who torture animals; they will do the same things to people."
The tea-bagger mobilization is "exactly what happened in Florida during the 2000 election when they gave the election to Bush," she said.
She was referring to the goons who helped deny Al Gore a presidential victory by intimidating Miami election workers and stopping the recount. Living near Miami at the time, Graff had on several occasions joined with others and traveled by bus to the city to participate in demonstrations supporting a recount.
The hatred expressed by those stopping the recount and this year's tea-baggers was the same, she felt. "Look at the pictures of those breaking through the doors where the count was taking place and you'll see the same type of faces today at tea-bag rallies," she said.
Much of it is motivated by racism "pure and simple," she said. "There is progress in terms of race but not as much as we think we have."
Graff was involved in the 2008 Florida Obama campaign through Citizens for Social Responsibility, a local group whose purpose is to educate for peace. "We saw the election as having the possibility of bringing peace, but in my mind it was impossible to believe we would have an African American president. I really didn't think it could possibly happen."
Long a fighter for peace, she said she particularly appreciates Obama's advocacy for the need to eliminate nuclear weapons.
"The danger is greater today than during the Cold War because there are more countries that have nuclear weapons," she said. "Unless you cut the war budget, there will never be any money for schools. Peace really is the central issue. As long as we have war, we are going to be having financial problems and that means we are going to have crime and everything else. As long as you are going to continue with the war budget there will be no money for anything the people need."
Otherwise, she asked, "How are we ever going to solve our problems?" Pointing to the grim situation here in Detroit, she commented, "When you read the local papers, you say, 'My God, how do you solve the money problem when everybody says no taxes?'"
Noting that Detroit's unemployment rate is now at 30 percent, she said, "Until people have jobs I don't see how you can talk about the recession being over."
But, as she approaches 90, Graff is feisty and optimistic. "In spite of everything, the fact that we were able to get a Barack Obama elected president shows that there is hope for the future. Without hope we have nothing and that is what Obama gave the people, hope for change."
Graff's view is that the main thrust for change must come from below. She recalled the slogan Obama made popular during the campaign. "Obama kept saying, 'It's not I can, it's yes WE can.' And I keep saying, where are all the WE's that were there during the election?"
She thinks we need a march of 100 million people in Washington to show how much people care. She may be near 90 but if that march happens, don't be shocked if she's part of the throng.
She has not slowed down much since her activism in Miami some 50-plus years ago. She continues to be involved in the big struggles, but takes time to reflect on the possibilities and perils faced by the movement today, and what her decades of activism have taught her.
"You don't forget the things that have happened," she concluded. "History does have a way of repeating itself if you don't learn from it."
Photo: Bobbi Graff (PW/John Rummel)