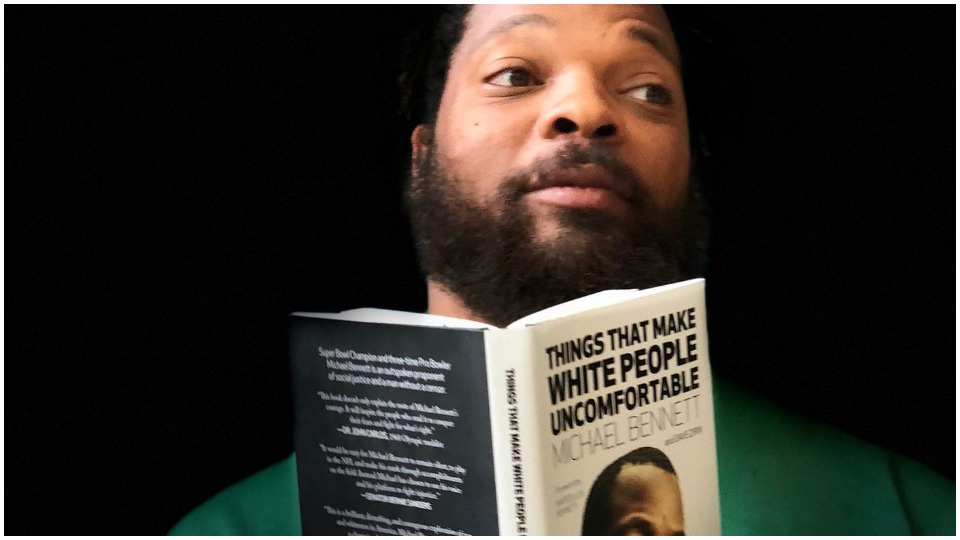 "There are always risks in challenging excessive police power, but the risks of not challenging it are more dangerous, even fatal" – Hunter S. Thompson
Yes, yes…football season is long over. The Amazin' Mets are now 8-1, a first since the 1985 season, and the NHL playoffs are creeping over the horizon.
But that doesn't mean we're going to stop talking football—especially when it deals with one of the most radical defensive ends in the NFL: Michael Bennett.
Let's start at the beginning.
During the current offseason, Bennett was traded to the Philadelphia Eagles from Seattle March 7. The move further fortified an already powerful Eagles defensive line and put Bennett on the same team as Malcom Jenkins—Eagles safety and fellow athlete-activist who took a stand against police brutality and racism during the 2017 NFL season.
As the business aspects of the NFL's offseason were playing out, Bennett was focused on writing and publishing his book, Things that Make White People Uncomfortable, with co-author Dave Zirin, sports editor for The Nation.
Apparently, Bennett putting his thoughts, words, and activism down on paper did just what his title alludes to: make those in power, specifically law enforcement, uncomfortable. So much so, that shortly after the release of the book, a warrant for his arrest was issued in Texas for an incident during Super Bowl 51 back in February 2017 (this, of course, is my own subjective speculation as to the timeline).
The charge: one count of felony injury to the elderly.
Possible penalty: Up to 10 years in prison and a $10,000 fine.
Here's how the Harris County District Attorney's Office told the story:
"NFL PLAYER INDICTED BY HARRIS COUNTY GRAND JURY

A Harris County grand jury Friday indicted Philadelphia Eagles defensive end Michael Bennett for the felony charge of injury of the elderly for injuring a 66-year-old paraplegic who was working at NRG Stadium to control access to the field at SuperBowl LI, prosecutors said.

On Feb 5, 2017, Bennett was a spectator and in town to watch his brother, a player for the New England Patriots.

Immediately following the game, Bennett shoved his way onto the field where players were gathering to celebrate.

NRG Security personnel, including the 66-year-old disabled victim, told Bennett he had to use a different entrance for field access.

Instead, he pushed through them, including the elderly woman who was part of the security team.

The charge, injury to the elderly includes intentionally and knowingly causing bodily injury to a person 65 years or older.

It carries a penalty of up to ten years in prison and a $10,000 fine.

As a result of the indictment, a warrant has been issued for Bennett's arrest. Prosecutors are working with Bennett's counsel regarding his surrender."
Bennett was at the game watching his younger brother, Martellus, New England Patriots tight end, take on and beat the Atlanta Falcons, 34-28.
After the win, he ran down to the field, like any proud family member would. There's even video recorded by Bennett's sister that shows them excitedly taking the field.
But here's where it gets a bit sketchy. Police have zero footage of the alleged "shoving."
Bennett has not gone on the record to discuss the pending charges, for legal reasons, but his attorney Rusty Hardins stands by Bennett's innocence, one hundred percent.
"I'm absolutely convinced he did not push the woman," Hardin said in a recent interview with The Guardian." It's always possible she's got Michael confused with somebody else, who might have pushed her, but we won't know until we see what's in their file.
"It seems strange that it took eight months for the case to be lodged…. The Texans' organization didn't know anything about it," he added.
And since all of this is taking place in Texas—where "bigger is better"—it only makes sense that Houston's police chief, Art Acevedo, would take the opportunity to showboat like the cowboy he thinks he is.
Acevedo took the podium flanked by officers on each side and called Bennett "morally corrupt," "morally bankrupt," and said, "I think it's pretty pathetic that you'd put your hands on a 66-year-old paraplegic and treat them like they don't exist."
Personally, I think it's pretty "pathetic" that a police chief would grandstand like that with minimal evidence to back up his claim. I guess that's how law and order goes in the "wild west."
It's also unfortunate that, due to all this trouble, Bennett has been forced to postpone his book tour. Once again, a voice for change—just like in the case of Colin Kaepernick—has been forcefully silenced by a legal system bent on withholding justice for those who deserve it most.
"You're always nervous," Bennett said in his interview with The Guardian. "You're going to be judged on your beliefs. But the fear of not being heard is ultimately my greatest fear. To explain why we sit during the anthem drove me to write the book. When you're in this box, as an athlete, you can't say how you really feel. There are so many things controlling you—the league, your team, or the brands you're associated with. But you want to be heard, regardless of the sport. You just want to be heard as a human being."