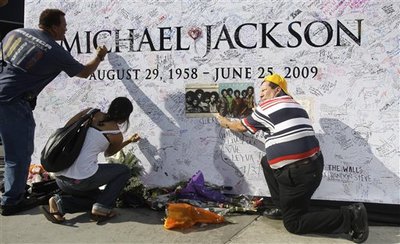 It was the white sequined glove, the unending zippers on that red leather jacket, the black penny loafers with the white sparkled socks and the famous moonwalk that shocked the world. These are some of many cultural trademarks that millions of fans worldwide will never forget about Michael Jackson who passed away June 25.
Known as the king of pop, Jackson defined an entire generation with such notable props, iconic dance moves and a gifted singing voice all made by the stuff of pure talent and sheer genius. He will be remembered as the world's most brilliant entertainer, a loving son, brother and father. His legacy, many say, will live on forever.
Millions across the planet tuned in on their televisions to celebrate Jackson's life and pay tribute to the pop king at a public memorial held in his honor at the Los Angeles Staples Center July 7. Many claim the Jackson memorial was the biggest event there since the 1984 summer Olympics.
Blocks of streets were closed and hundreds of police and fireman were on duty around the stadium. Family members and colleagues of Jackson came together, including thousands of ordinary fans randomly selected via the Internet.
Pastor Lucious Smith made the opening remarks. "Michael Jackson was a hero, an idol and even a king to millions across the world, but first and foremost he was a son, a brother, a father and friend to many of us," he said. "The truth is, he will never really be gone at all," said Smith. "He had a beautiful and human heart and he only wanted to share his love with the world through his music."
Queen Latifah said, "Michael made you believe in yourself. He was the biggest star on earth and he let me know that as an African American I could travel the world." She read a poem called, "We Had Him" by Maya Angelou. The poem read, in part, "He was a gift to us and we had him. He thrived with compassion. He was ours and we were his. We were enchanted with his passion. We had him and we are the world."
Motown Records founder Berry Gordy, who signed Jackson at age 10 with his brothers, known as the Jackson Five, addressed the audience. "Michael raised the bar and then he broke the bar," he said. Gordy said Jackson blew him away back in 1968 during his audition. "His performance was way beyond his years and he had a special quality," said Gordy. "You could feel the joy in his soul." Gordy continued, "King of pop is not big enough for Michael. He's simply the greatest entertainer ever to have lived," he said.
Basketball superstars with the Los Angeles Lakers, Kobe Bryant and retired Magic Johnson talked about how Jackson is recorded in history as the biggest pop star ever to have given so much toward charity and those in need.
"Watching Michael perform and be a leader on stage made me a better basketball player," said Johnson. "He opened so many doors for African Americans," he added. "Today is a celebration of his life and his legacy."
Reverend Al Sharpton said, "We celebrate a man that taught the world how to love." Sharpton noted that Jackson came from parents who had nine children and came from a working class city, Gary, Indiana. "Michael learned to never stop dreaming," said Sharpton. "He didn't except limitations and he opened doors for the whole world," he added. "It was Michael Jackson that brought whites, Blacks, Latinos, Asians and many others together and people became interconnected through his music," said Sharpton. People like Oprah Winfrey, Tiger Woods and the country's first African American president are credible to what Jackson accomplished. He never gave up. Every time you counted him out, he came back in. Every time he got knocked down, he got right back up. He broke down so many barriers," said Sharpton.
Brooke Shields talked about her special bond with Jackson as two youth growing up in the media spotlight. "He was one of a kind and where ever we went together we just had fun," she said. Shields added that both her and Jackson had to be adults very early in life. "But when we were together we were like two little kids having fun and he just loved to laugh," said Shields. "Jackson had a delightful sense of humor and he was a caring, pure, honest, loving and sensitive man."
The son and daughter of Coretta Scott and Martin Luther King Jr., Martin Luther King III and Bernice A. King added their heartfelt remarks.
Rep Sheila Jackson Lee, D-Tex., called Jackson a Good Samaritan who cared and loved the world. "His was a salt of the earth story and he fought the good fight." She said that on the day Jackson died members of Congress stopped and had a moment of silence to pay their respects. Meanwhile a resolution is being introduced in Congress to declare Jackson as an American music legend never to be forgotten, she said.
Famous singers and musicians including Mariah Carey, Lionel Richie, Stevie Wonder, Jennifer Hudson, John Mayer and Usher performed musical tributes during the memorial.
It was said one of Jackson's favorite songs was a tune that was originally composed in Charlie Chaplin's film, "Modern Times." Jackson's brother Jermaine sang the song, "Smile," at the memorial.
Two of Jackson's most notable songs, "We Are The World," and "Heal The World" were sung at the end of the tribute as children of all colors joined the stage holding hands.
"Michael Jackson will never ever really be gone," said Smokey Robinson. "Because he is going to live on forever."
plozano @pww.org