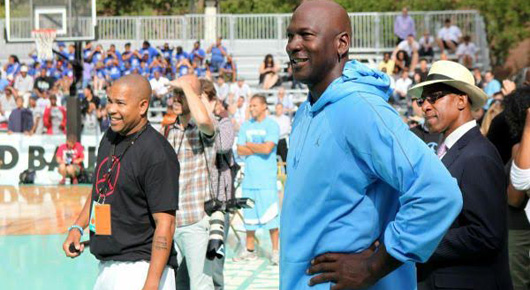 CHICAGO — Michael Jordan, whom many consider a saint in this city, broke his silence on one of the most pressing issues of the day: racism and policing. For years, Jordan has been criticized for refusing to speak out on social issues.
But that silence ended July 25.
In a letter to ESPN's The Undefeated, the network's platform devoted to exploring sports, race and culture, the basketball great wrote, "As a proud American, a father who lost his own dad in a senseless act of violence, and a black man, I have been deeply troubled by the deaths of African Americans at the hands of law enforcement and angered by the cowardly and hateful targeting and killing of police officers. I grieve with the families who have lost loved ones, as I know their pain all too well."
In the letter, Jordan also announced two grants of $1 million each for the Justice Department and Motorola-funded Institute for Community-Police Relations and the historic NAACP Legal Defense Fund. (The Institute for Community-Police Relations includes at least a dozen present and former police officers on its executive board.) Jordan said he did so in order to "come together as Americans" and "achieve constructive change" in policing policies and practices "that will build trust and respect between communities and law enforcement."
"I was raised by parents who taught me to love and respect people regardless of their race or background, so I am saddened and frustrated by the divisive rhetoric and racial tensions that seem to be getting worse as of late. I know this country is better than that, and I can no longer stay silent. We need to find solutions that ensure people of color receive fair and equal treatment AND that police officers – who put their lives on the line every day to protect us all – are respected and supported," Jordan wrote.
Read the entire story at The Undefeated.
Earlier this month, four of the NBA's biggest stars, Carmelo Anthony, Chris Paul, Dwayne Wade and LeBron James, opened the ESPYS (Excellence in Sports Performance Yearly Award) with a call to all athletes to speak out and be socially active.
"Generations ago, legends like Jesse Owens, Jackie Robinson, Muhammad Ali, John Carlos and Tommie Smith, Kareem Abdul-Jabbar, Jim Brown, Billie Jean King, Arthur Ashe and countless others, they set a model for what athletes should stand for," said Paul. "So we choose to follow in their footsteps."
However, it seems that at least one sports organization, the WNBA, did not like that message. On July 21, it fined three of its teams and its players for wearing clothing with slogans of support for Black Lives Matter. That same day, after a game between the New York Liberty and Indiana Fever, two of the teams fined, the players refused to answer any questions from the media except on the topic Black Lives Matter and the WNBA's crack down on the players. Liberty Forward Tina Charles, who was named the WNBA player of the month, said on her Instagram account, "Today, I decided to not be silent in the wake of the @wnba fines against @nyliberty, @indianafever & @phoenixmercury due to our support in the #BlackLivesMatter movement. Seventy percent of the @wnba players are African-American women and as a league collectively impacted. My teammates and I will continue to use our platform and raise awareness for the #BlackLivesMatter movement until the @wnba gives its support as it does for Breast Cancer Awareness, Pride and other subject matters."
On July 26, the Democratic National Convention heard from the mothers of Sandra Bland, Jordan Davis and Trayvon Martin, three young African Americans whose lives were wrongly cut short because of racism. The outrage at Martin's killing at the hands of George Zimmerman in 2013 helped to serve as a catalyst for the Movement for Black Lives.
Photo: Michael Jordan appears at the World Basketball Festival at EBC Rucker Park in New York City. (Ebc155/Own work, CC BY-SA 3.0)