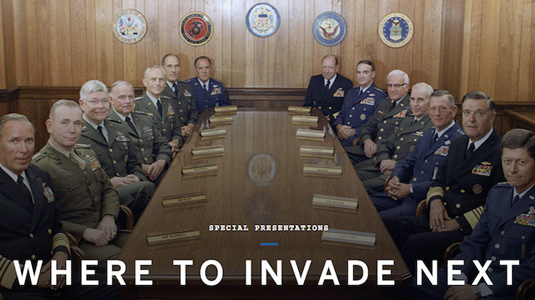 It's been six long years since the humorist provocateur Michael Moore has made a film. Those anticipating his next offering were worrying that this highly popular progressive filmmaker might have retired from the screen. It would make sense considering the changes in his personal life. A divorce from Kathleen Glynn, his longtime partner and producer of many of his film projects, both TV and screen, must have taken a personal and professional toll on his life. There's his immersion in Traverse City arts with the production of a brilliant progressive film festival, restoration of theaters and a comedy festival that surely took immense time from his life. And then there's the fact that he's become one of the richest filmmakers around and probably doesn't need much more money.
But unbeknownst to fans and running below the radar, Michael was working on his next film, following his 2009 blockbuster satire, Capitalism: A Love Story. With a small team of producers and crew, he traveled the world around, mostly Europe, interviewing fascinating subjects who would contribute to a film with a different approach to his analysis of the woes of capitalism as practiced in his beloved United States of America. Where To Invade Next is the result of this globetrotting, and it wasn't until its premiere that anyone really knew the actual details of this bold new project. It was the hot ticket at the Toronto International Film Festival that boasts 400 titles and over a thousand screenings of films from around the world. Michael was in attendance, and his bigger than life presence did not disappoint his fans, and maybe even made some new converts.
Utilizing some of Moore's filmic trademarks, comical archival footage, coy questioning that elicits the expected response, and dramatic music used in a satirical manner, the film lays out the premise by claiming the U.S. has lost every war since WWII and needs someone else to take the reins. And Moore is that one-man invader. What's thankfully missing is his confrontation with innocent guards at doors and workers at desks who won't let him pass. Here he is welcomed into schools, prisons, factories and government offices probably because he's interested in what's good about their lives and country.
What can we learn from other countries?
The simplistic idea of this contrived plot is not to find new countries to invade with our military, but to invade other countries and steal their good ideas. He reminds viewers that many of these "novel ideas" actually started here in the good ol' USA – like the 8-hour work day, paid vacations, nutritional home-cooked meals in schools, and humane treatment of prisoners.
He discovers in Italy that workers receive 8 weeks of paid vacation, and months of paid maternity leave; in France schoolchildren receive gourmet lunches that they actually learn how to cook themselves. A comical moment arises when Moore ,sitting around the table with children eating healthy food, tries to convince them to drink some Coca Cola. They grimace and are surprised at his comical attempt, especially considering Michael's obesity.
Finland has the #1 rated school system in the world because, they claim, they have eliminated homework and SAT testing that now allows students more time to enjoy life with their friends and families. They also have no private schools, forcing rich folks to support and participate in public schools where their children also attend. Germany educates its people about the crimes of the Nazi era. It's here that he makes reference to America's failure to acknowledge the crimes of slavery and the savage treatment of our Native people.
In Norway they send their convicted criminals to homes on isolated islands where they can live a normal life away from society, with all the amenities needed, and no bars on the doors. Norwegians are even able to forgive criminals like the mass murderer Anders Breivik, who recently killed 69 students at a Labor Workers retreat. Iceland is the first country in the world to have a political party formed and led entirely by women, and it elected the world's first woman president in 1980, who was interviewed in the film.
One amazing discovery after another keeps the pace going and the surprises piling up. Portugal has decriminalized all drug use, and addiction is dropping dramatically. Slovenia has a free university system, also available in English, and invites students from around the world to enroll.
Capitalism and greed still Moore's target
Some say there are no villains in this film, which makes it so heartwarming and happy, but the real target is still capitalism and greed. Rather than negatively attacking the ills of American society, he compares these "discoveries" with the realities of homelessness, racism, crime, joblessness and the dire consequences of a putting profits before people. He's just coming at it from the other direction. Even though the title is deceptive, it still relates to the crime of spending a major portion of a country's economy on the military and warfare while taking needed money from social programs.
The film ends with scenes of the Berlin Wall coming down, with Moore and his lifelong buddy, now executive producer of most of Moore's films, Rod Birleson, standing on the top chopping at the bricks. Moore contemplates that the impossible can happen, and leaves the audience with a sense of hope.
The film is better than standard fare for Moore and should satisfy his admirers, while his detractors will still find enough to criticize Michael, for his manipulative questioning and selective editing. With one rosy story after another, it's obvious Moore is overlooking gross problems in these capitalist countries, many suffering from serious social decline.
The premiere in Toronto was received with constant laughter, applause and even tears of joy, watching the wondrous examples of social progress displayed in the places he visited. In his remarks after the premiere screening he generously thanked his entire team in the audience and invited every audience member to attend a bona fide festival party down the street, so everyone can be part of the festival experience.
It was one of the few major films that came to the festival without a distributor – and it left that way. Moore reportedly turned down enticing offers from Netflix and other online sources, preferring to save his film for theatrical release. Not surprising considering the love he has for traditional movie theaters like the State up in Traverse City being one of the most successful in the country. For him, nothing matches the excitement of a communal sharing of art in a large darkened room with bouncing lights on a giant screen.
More recently, the film has been picked up by a new distributor excited to promote the film properly, starting out with a Midwest premiere in Chicago on Oct. 23, followed by the Philadelphia Film Festival and then eventual theatrical release this year. But if you can wait six years, what's a few more weeks?