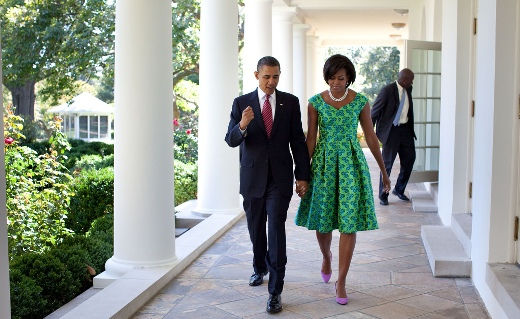 NEW YORK — Speaking to a packed house at the St. James Theater in Times Square here on Oct. 18, First Lady Michele Obama gave a moving speech recounting key achievements of the Obama administration and why "we can't go backwards."
The fund raiser was organized by the DNC's Women's Leadership Forum and Organizing for America, aimed at mobilizing women to help get out the vote (GOTV) on November 2. Present were well over 1,000 women. "Second Lady" Dr. Jill Biden, the incomparable Patti LaBelle and Sex in the City's Sarah Jessica Parker all shared the stage with Obama.
The audience greeted the First Lady with a standing ovation, and her speech was interrupted with applause numerous times.
Speaking as "mom-in chief" and concerned about the future for all kids, Obama reflected the concern about the American Dream "slipping away."
"We all want to leave something better for our kids," she said.
In less than two years, the Obama administration has "accomplished much," the First Lady said. But, she added, "I know things are moving too slow. Barack also thinks they are moving too slow."
She reminded the audience of the feeling we all had on election night and at the inaugural. "We have come much too far to turn back now," she said. "We are building a movement for change. Just putting one person in the White House is not enough. Barack told us that" during the campaign, she said.
To loud applause she said, "I gave you my husband, now you all have to have his back!"
Actress Sarah Jessica Parker drew prolonged ovations when she outlined the victories won in less than two years – victories especially important for women.
Two more women are now sitting on the U.S. Supreme Court, she said, referring to Justices Elena Kagan and Sonia Sotomayor, the first Puerto Rican and person of Latin American descent ever appointed to the high court.
Jessica Parker said passage of the Lily Ledbetter Bill on equal pay, the increase in student financial aid, health care reform and the stimulus act are all victories for women.
"We have to keep our movement in place. We are a movement, we are a team and we are ready!" the movie, TV and stage actress said, and reminded people to get busy for Election Day. "We need people to canvass and to phone bank."
"No one has a bigger stake in this elections then women," she said.
The meeting was a reminder of how powerful the women's vote is — along with the votes of Blacks, Latinos, Native Americans, Asians and youth. These are all groups of Americans who were denied the right to vote, but fought and won that right. As a result, each strengthened democracy for all.
Leaving the event with my wife, I felt this was part of what is needed to mobilize voters and prevent what could be a serious set back for democracy. There was a small army of volunteers in the theater lobby with clip boards in hand signing up people to help GOTV. People walked out buzzing with enthusiasm. I heard one woman say, "I am so proud of our First Lady. She is a fine leader."
Women, along with labor and all democratic-minded voters, could turn around a potentially dangerous setback to the country (Republican victory). That's certainly a fight worth fighting for.
Photo: (White House)