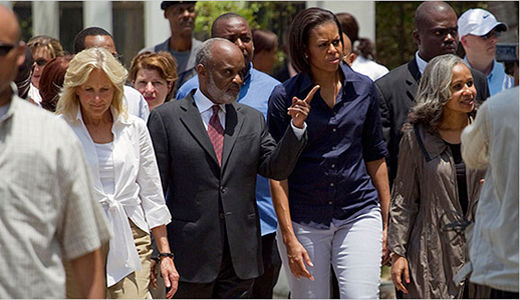 In her first solo international trip as first lady, Michelle Obama made a surprise visit to Haiti Tuesday to witness the aftermath of the catastrophic Jan. 12 earthquake that devastated the impoverished Caribbean island, claiming over 225,000 lives.
Jill Biden, wife of Vice President Joe Biden, joined Michelle Obama. Both women toured the ruins of Port-au-Prince by helicopter. Sources say they wanted to visit Haiti for some time but did not want to interfere with ongoing humanitarian efforts.
"I think it was important for Jill and I to come now because we're at the point where the relief efforts are under way but the attention of the world starts to wane a bit," Obama told reporters. "And as we enter the rainy season and the hurricane season, the issues are going to become more compounded. I think it was important for us to come and shed light."
Experts describe the Haitian earthquake as the deadliest natural disaster in modern history. Despite a massive aid effort, more than a million survivors are homeless and many live in miserable conditions under tarps and homemade tents in makeshift camps around the capital. Haiti's government says the final death toll could number more than 300,000.
Prior to the quake, Haiti, known as the world's first independent black republic, was believed to be the poorest country in the Western Hemisphere. It was already struggling with an 80 percent poverty rate.
Mrs. Obama told Haitian leaders and the people she visited that the U.S. and the world would help them rebuild.
"What is clear is that there is still much to do," Obama said. "The devastation is definitely powerful."
She is also urging the international community not to let up on its support.
"It's going to take all of us. In order for Haiti to get back to where it needs to be, it's going to take the world continuing to invest, to partner, to show that sense of compassion," she said.
"Little by little, Haiti will move forward; little by little, Haiti will rebuild. We have hope because the United States stands with Haiti, and we have hope because the world stands with Haiti."
Mrs. Obama and Mrs. Biden met with Haitian President René Préval and his wife Elisabeth. They also visited a school and met with students. Earlier they met U.S. and international relief workers at a United Nations base and addressed Haitian civil society groups.
Speaking to reporters, Jill Biden said, "I think the one thing that we take away from it is really the strength and resilience of the human spirit, and that's what we saw today and that's what we'll take home to Washington with us."
The U.S. deployed about 20,000 troops in the days following the quake and Washington has sent in dozens of staff with the U.S. Agency for International Development (USAID). The Obama administration has already provided $1 billion in humanitarian aid to Haiti and pledged an additional $1.15 billion to boost the rebuilding efforts. According to USAID almost 1,000 aid groups are on the ground in Haiti.
Meanwhile Congress is calling for the U.S. to take the lead in relieving Haiti of its estimated $828 million debt to international institutions. The House approved by voice vote Wednesday and sent to the president legislation that instructs U.S. directors at the International Monetary Fund and other global development institutions to use their votes to cancel Haiti's debt. The debt relief bill, passed earlier by the Senate, would urge the immediate and complete cancellation of all debt owed by Haiti to multinational institutions.
On Tuesday night after her trip to Haiti, Michelle Obama arrived in Mexico City for a two-day visit where she is expected to talk with Mexican leaders about improving education for the poor.
Photo: From left: Jill Biden, Haitian President René Préval, Michelle Obama, and Elisabeth Préval, in Port-au-Prince on April 13. (AP/Brennan Linsley)