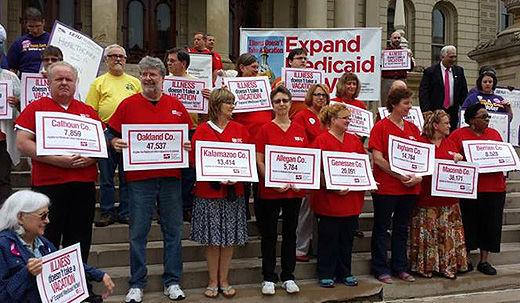 LANSING – Add Michigan, barely, to the list of states implementing a key part of Obamacare, the expansion of Medicaid, known locally as the "Healthy Michigan" plan.
After a long day and several votes, eight Senate Republicans finally joined all 12 Senate Democrats late yesterday to give a two-vote margin of victory. Passage will mean almost 2 billion dollars in federal money can be used to provide health care to low income adults, approximately 325,000 in 2014 and over one hundred thousand more by 2015.
Marjorie Mitchell, the executive director of Michigan Universal Health Care Access Network (MICHUHCAN), said this morning the campaign to win passage was "one of the few things we have worked on in health care where there was consensus" among providers, hospitals, doctors, advocates, and small business associations of how important this legislation was. She said additional support came from unions, churches and even the Republican governor.
Gov. Snyder doesn't disagree with tea party Republicans on too many issues but on this he supported expansion citing the $206 million the state will save in the 2014 fiscal year by providing benefits to those now receiving services paid for with general fund dollars.
Snyder said adding almost 500,000 adults would also alleviate most of the $880 million a year in uncompensated costs that are borne by hospitals and passed along to individuals and businesses through higher health care premiums.
It "boggles the mind" with so many diverse organizations supporting expansion it should take this much effort, said Mitchell. "It was a long battle," and she was up early sending "thank you notes" to those senators that had "persevered."
Expansion had passed Michigan's House several months ago. In the days leading up to yesterday's vote Michigan Senate Democratic Leader Gretchen Whitmer said in a posting, "it's a vote that should have been simple, bipartisan and taken place months ago but an "extremist minority" has been fighting this process every step of the way.
Mitchell said MICHUHCAN does have concerns about changes made to expansion that transfer some of the costs to individuals and may become a barrier to people enrolling. "We'll need to look at that over time and if it is a barrier, correct it in the future."
Right now she said we need to do more work in convincing people the safety net is "so important from both moral and economic points; it makes sense."
The summer long campaign for Senate passage hampered efforts to get information to people to start the enrolling process in October. Now Mitchell says we need to "roll up our sleeves."
Photo: MIchigan Nurses Association members lead the way with a press conference on the Capitol steps urging the state Senate to pass Medicaid expansion. (via MNA)