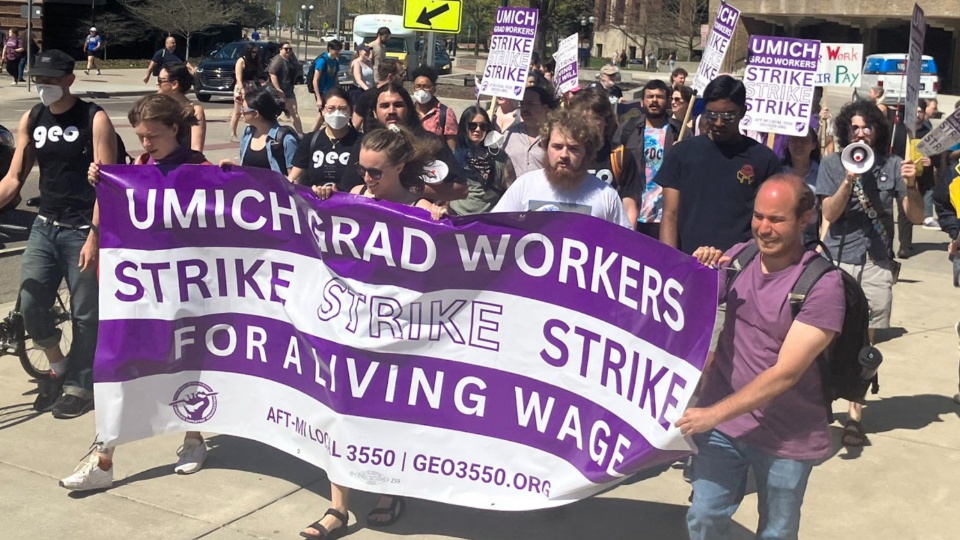 ANN ARBOR, Mich.—As another Midwest winter finally began to give up the ghost and another term was coming to an end for students on campus, graduate students at the University of Michigan decided to take uncertainty into their own hands.
With only a few weeks left in the term, the Graduate Employees Organization, or GEO, at the University of Michigan went on strike on March 29. What brought them to strike was the need for a living wage: The current average salary of a graduate student is $24,000 a year, and the union is looking to get this to $38,000.
Although striking is illegal according to both state law and GEO's contract—GEO even admits such—the grad students decided to gamble on whether the university would prefer to clean house or pay them a living wage anyway.
April was a contentious month for the striking workers. Their pay ceased on April 2. The university sent out an email warning the strikers they would not be paid for any time not worked. The email also said all graduate student instructors and staff assistants (GSIs and GSSAs, respectively) were required to complete attestation surveys beginning the week of April 9. The union advised its members to not fill out or sign them.
The university then sought a Washtenaw County Circuit Court order to force them back to work; the court refused to intervene.
Not a week later, a different Michigan-based judge ruled the strike was an unfair labor practice. The students' contract, which ended May 1, contained a no-strike provision, which administrative law judge David Peltz ruled a breach of the graduate student union's duty to bargain in good faith.
On April 20, on the day that students should have received their normal paycheck, U of M President Santa Ono sent campus police to forcefully remove workers picketing around his SUV while he was out to dinner.
Now that commencement season is over and the campus has quieted down, the striking workers' future is still on the table.
Beyond pay
Although the demands for a living wage have been at the forefront of their strike, the graduate students' platform goes beyond pay. It proposes radical changes in campus security, minimum standards for COVID and disability safety, and basic healthcare.
It also addresses issues specific to particular groups of students. International graduate students, for instance, are hit with extra expenses from taxes and visa submissions which are not covered by the university, and Master's students are often not included in the discussion of open teaching positions. The union wants both of these things to change.
It also looks beyond the troubles of the higher education industry: Transgender healthcare, reproductive rights, workload, and harassment and discrimination are also addressed.
Considering widespread state and personal violence against the trans community, the ubiquity of abortion bans, the mental health(care) crisis, and the persistence of workplace power imbalances, the GEO's bargaining platform reads less like a union's demands and more like a treatise on human rights. If there is any takeaway from the symptoms the platform addresses, it is that this fight is not just about the problems on a single campus.
Despite this, in most local media coverage of the strike, pay has become almost the sole focus. This is because of how the university is framing the discussion around money.
Under their "Facts of Compensation," the U of M's press release and updates on the strike show a clear demarcation between the hourly wage to meet Ann Arbor's cost of living ($18.67/hour) and what graduate students in the GEO make today ($35/hour). The same graph shows what the university has offered as its counteroffers ($37/hour and $39/hour). When put side-by-side with what the GEO workers have proposed ($55/hour in the first year), it's no wonder that the demands might come off looking unreasonable.
Despite claiming that they remain "ready and willing" to negotiate, however, the university does not want to address the fact that graduate students tend to only bill 16-20 hours a week, despite working well above the 20-hour mark. The GEO's demand of $55/hour needs to be understood in the framework of part-time work rather than the university's implied 40 hours or more.
When calculating a salary of $38,000 down to an hourly wage, graduate students not-so-surprisingly only make $18.27/hour.
Harassment and power on campus
Normally, when workers go on strike, we only ever hear that the issue is about pay, benefits, time off, or safety issues. What gets missed is not only the long history of workers' movements battling both sexual harassment and racism but also the very real power that someone like a manager or mentor maintains even after a company acquiesces to other demands.
GEO's demands for anti-harassment protections come in the midst of a national debate around power differences between faculty and graduate students.
In recent years, bans against amorous relationships between graduate workers and faculty have been on the rise. The University of Vermont and the University of Central Florida both advanced policies to ban them last year. The University of Michigan passed a policy banning amorous relationships between faculty and undergraduate students which took effect in 2019, and now GEO is demanding to take this one step further.
Graduate workers and allied faculty members in support of such bans have argued that there is an inherent power imbalance at work. Faculty not only have influence over graduate students' grades, funding, and experience opportunities, the students' reputations in their fields are just as vulnerable to scrutiny.
It is important to acknowledge that a faculty member's tenure—or, perhaps more accurately, the power that comes with a tenured position—is not isolated to the university where they work. It extends to influence and recognition in the eyes of various publication editorial boards, similar departments at different colleges, and even the private sector.
Faculty opposed to these bans argue that relationships between two consenting adults should not be regulated; whereas supporters argue that regardless of graduate students' desire, academic pedagogy establishes faculty's responsibility to redirect student desire towards learning.
The opposed (primarily faculty) position, although attempting to conjure contempt toward a new form of bureaucracy, appears to breeze right over the nuance of accountability, almost abdicating responsibility entirely.
A history of abuse and betrayals
In late 2019, Barrett Watten, an English Professor, was found guilty of sexual harassment against graduate students at Wayne State University in Detroit. In a letter from Dean Stephanie Hartwell, she said an independent investigation found Watten had created a hostile work environment for one graduate student, engaged in inappropriate communications with another, engaged in targeted hostility with a third, and had a consensual sexual relationship with a fourth. Watten had direct supervision and grading authority over the graduate student with which he had inappropriate communications. Watten's abuse of power goes back decades.
Wayne State does not have a ban on amorous relationships, although graduate workers have argued for one. In the summer of 2020, members of the Graduate Employees Organizing Committee wrote, advocated, and passed a statewide resolution putting the American Federation of Teachers – Michigan on record supporting such bans in Michigan universities.
Tenured faculty, meanwhile, were variously some of the biggest opponents and biggest supporters of this resolution. The resolution was modeled on an existing policy at the University of Michigan.
Watten has been banned from teaching but still holds a Chair at the university, effectively keeping him on payroll, maintaining benefits, and allowing him to continue his research without ever needing to step foot in a classroom. There is a clear deficit in what workers' rights mean when pay and job security are the only focal points.
Aside from the argument of desire, faculty members who oppose amorous relationship bans between faculty and graduate students view these bans not as a way to protect graduate students but as an infringement on their own rights and freedoms as workers.
It would appear that some faculty unions would rather protect job security for their members who commit harassment and assault than hold them accountable. What they may fail to realize is that by prioritizing the tenure of abusive faculty over equity and safety for graduate workers, they are failing to prioritize job security for faculty who are at high risk for harassment and assault themselves (such as their colleagues who are Black, Brown, women, and queer).
According to Dr. Jennifer Freyd, "institutional betrayal" occurs when an institution (or organization) fails to protect its members from harm. As unions are meant to protect workers, this attempt to protect the most powerful at the expense of the most vulnerable is an institutional betrayal committed by some faculty unions.
Major changes in leadership at Wayne State, including within unions, have since made way for the promise of equitable practices and policies. But graduate workers across Michigan still face the risk of harassment and subsequent betrayal for the sake of faculty tenure.
What's next
Although there is a disparity between faculty and students, plenty of faculty have voiced support for the striking students. In fact, when it comes to most workplace demands—specifically regarding harassment and discrimination—it's important to remember that many students will earn their degrees and move on. The faculty will more than likely remain and be vulnerable to colleagues with histories of harassment, assault, or racism.
Perhaps this shared struggle has not been completely overlooked. Between the recent strikes at Rutgers University and Chicago State University, and the graduate students of the University of Chicago and undergrads at California State University voting to unionize, college campuses are in the spotlight this season.
Although much of the reporting has focused on living wages, there is more to be won in this wave of organizing. Many grad student unions have platforms that include proposals completely unrelated to pay, but the fact that these provisions do not garner attention should not lead one to conclude that they will be accepted or, worse, do not matter.
Not only does the GEO's bargaining platform at the University of Michigan stand as a model for unions to come, but it also shows how fully politicized both the role of worker and the role of student actually are. The issues graduate workers are up against speak to this political relationship.
Often, universities hesitate to make big policy changes due to legal obligations and liability from federal laws such as Title IX and federal guidance. So it is with bargaining contracts that these workers are able to articulate and even win what is needed to affect larger, institutional changes.
From this perspective, it is important to note not only the victories students may gain regarding a living wage but also what the universities fear giving up: Power.
We hope you appreciated this article. At 

People's World

, we believe news and information should be free and accessible to all, but we need your help. Our journalism is free of corporate influence and paywalls because we are totally reader-supported. Only you, our readers and supporters, make this possible. If you enjoy reading 

People's World

 and the stories we bring you, please 

support our work by donating or becoming a monthly sustainer today

. Thank you!